Little 'Star' Olive finds new home in Lisburn
by STACEY HEANEY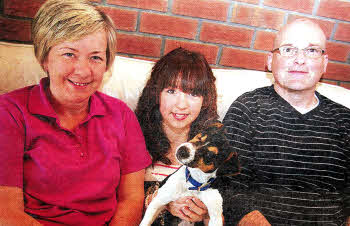 Susan and Andy Owens with their daughter Sarah and little Olive, the puppy they rehomed after seeing her in the Star. US2911-102A0
WHEN a gorgeous puppy with one eye and a curious face featured as the Star's Dog of the Week in our weekly pet column, no-one knew quite the reaction little Olive would receive.
However, the hearts of families all over Lisburn were melted by the 12 week old pup and Olive has now been rehomed with one of them.
Olive, who is now around 18 weeks old, was rehomed with the Owens family who live in the city and who say she is "like one of the family."
Susan Owens said it was love at first sight when she and her husband Andy, daughter Sarah, 12, and son Jonathan, 18, saw Olive in the Star column, which has been running for the past two years and has seen 80% of the dogs advertised rehomed.
Susan explained: "Sarah had been looking us to get a little dog to go-with our Labrador Lucy and we had been waiting until Lucy was a little older, but as soon as we saw her picture in the Star I thought, 'look at that poor wee dog' and we just had to get her. I just couldn't resist her."
Olive had a rough start in life, losing her eye and being found by the dog warden in Ballymena, before she was rescued by the Dogs Trust rehoming centre in the town.
Susan. continued: "Olive was found by the dog warden with her eye hanging out and she was taken to the Dogs Trust. When we got her she was only 12 weeks old and she had been there about a month, so she was just a tiny puppy."
Olive may have had a tough start to life, but her lively spirit means she has settled in well with the Owens family, who say she is like "part of the family."
Susan said: "We rang the Dogs Trust on the Saturday morning after seeing the Star and decided to go up and see her. We were told there were lots of phone calls about her from people in Lisburn, but we were the first who went up to see her.
"We met her on the Saturday and then went back on the Sunday to introduce Lucy to,her to see how they'd get on. After the home inspection to check the garden was secure and everything we got a call and we had her home by Thursday.
"When we brought her home she just came straight through and jumped up on the settee as if she'd always been here."
Olive's eye was removed when she arrived at Dogs Trust, however, Susan said her injury hasn't dampened her spirit.
"She can be lively, she loves her walks and loves to play and then she'll just fall asleep. She's playing catch up all the time, but having only one eye doesn't seem to affect her too much. She bumps into the odd thing, but only because she's so quick."
Andy added: "She sometimes loses the ball when we're playing catch if it goes on that side, but it doesn't annoy her too much. She gets some attention when we take her out and a quick hello soon turns into a 15 minute conversation because people are so curious about her, we're never short of people to talk to now that Olive is here."
Susan added: "Dogs Trust were very good with us. They were very quick and very helpful.
"We're just glad to have her and glad to be able to give her a good home. I thought for sure when I saw her that people may not want her, but that obviously wasn't the case. I'm just glad it was us she came to." Everyone at Dogs Trust was delighted Olive found a loving home so quickly.
Manager Mary Carney said: "We are always delighted to hear when the dogs are settling in as well as Olive. Her story was one that touched so many of us as she had a tricky start to life but she is doing so well with the Owens and looks set for a very happy healthy future. We have dogs of all shapes, sizes and ages at the centre, all of who are also looking for their happy ending, so if you think you can help then pop in and see us."
Mary added: "We've been amazed at the success of the regular Dog of the Week pieces in the Star and have found homes for 80% of the dogs featured in the paper, including little Olive. It is a great way of showing the general public the range of different dogs we have in the centre and hopefully making them think of us when they are considering a new dog."
If you are interested in learning more about the Dogs Trust or would like to rehome one of the many dogs available at the Ballymena Centre, please contact Dogs Trust Ballymena on 028 2565 2977 or visit the website at www.dogstrust.org.uk.
stacey.heaney@ulsterstar.co.uk
Ulster Star
29/07/2011