Royal College praises LVH maternity unit as a 'jewel'
`The midwives are truly dedicated to enabling local women to benefit'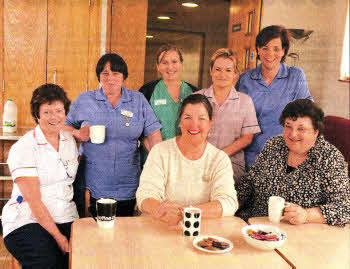 Pictured L/R: Frances Hogg, Jayne Parkinson, Michelle Gordon, Hazel Craig, Lisa McGarry. Front Row: Breedagh Hughes (NI Board Secretary, Royal College of Midwives) and Louise Silverton (Deputy General Secretary, Royal College of Midwives)
THE Deputy General Secretary of the Royal College of Midwives has praised the new Midwifery Led Maternity Unit in the Lagan Valley Hospital as 'a jewel' in the region's services.
Louise Silverton made her comments after paying a visit to the unit.
She said: "I was delighted to visit this pioneering unit, only the second one open in Northern Ireland and meet the midwives and support staff. I know it is ploughing ahead with over 80 births already.
"The unit provides wonderful care for women from antenatal through to postnatal care as well as the birth and it is a real jewel, in the heart of the region's maternity services. The midwives are truly dedicated to enabling local women to benefit from midwifery led care.
"This type of community midwifery unit is crucial to give women a choice of a birth in their area in places where they cannot sustain a full obstetric service. I would love to see more of them opening across Northern Ireland and I hope Lagan Valley is one of the first of many.
"I am sure the unit will go from strength to strength and I look forward to a return visit in the future to see even more of the wonderful work being done there."
Zoe Boreland, Lead Midwife, said: "We were delighted Louise Silverton` took the time to visit the Midwifery Led Unit during her recent short visit to Northern Ireland. "It is an important endorsement for the unit to have the support of the Royal College of Midwives as we enter a new and exciting phase of maternity services in the Trust and the region."
Ulster Star
08/07/2011