Work starts to develop old church site in Maghaberry
by MARY MAGEE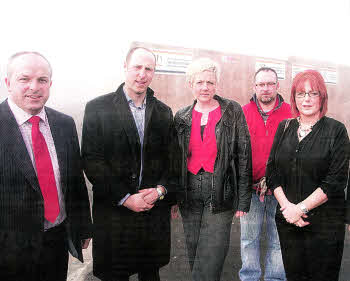 Councillor James Tinsley, Rob Lewis Developer, Tracy Crothers, Sam and Helen Reddick of Maghaberry Community Association with Councillor Paul Givan in front of the site where two houses will be built US1111-114A0 Picture By: Aidan O'Reilly
THERE has been a warm welcome for a proposed development of an old church site in Maghaberry village.
Developer Robert Lewis was granted planning permission to build two houses on the grounds of an old Methodist Church two weeks ago.
The church has been derelict for almost a decade and has become the centre of anti social behaviour.
Work has already begun on the two houses, one of which will incorporate a watch tower bell.
Mr. Lewis said: "Our company takes pride in the homes we build and recognise that we are part of the community and I am pleased we have been able to develop a scheme with the support of the local community group and politicians that we believe will enhance the village centre." Sam Reddick, Chairman of Maghaberry Community Association, said: "This site has been an eyesore for a long period of time and we are delighted work is now taking place that will improve the centre of the village. I would like to thank the developer for the work he has carried out on this project and also the politicians who have worked with Planning Service to overcome some of the challenges in gaining approval for the project."
Lagan Valley Assembly Member Paul Givan said, "This is good news and the developer has produced a scheme that will enhance the village centre.
"As a resident of Maghaberry I have witnessed the continued growth of the village and it is important that developments take place to meet the growing needs of the community. As public representatives we have been working with the Council to provide new facilities including the new community hall which is providing an excellent service to local people and is very popular.
"The Council has also provided additional bins and during the summer, put in place hanging baskets with flowers and has carried out work to improve the playground.
"This work came about as a result of the good work carried out by the local community group in conjunction with politicians and they are to be commended for the efforts made which benefit the village."
Killultagh Councillor James Tinsley described the derelict church building as an 'eyesore' and a 'magnet for anti-social behaviour.'
"Having spoken to members of the local community I have been informed that they are also delighted that positive progress has been made to replace the former derelict church building." he said.
Ulster Star
18/03/2011