Margaret donates prized collection to Linen Hall Library
by STACEY HEANEY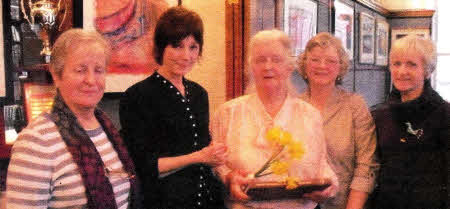 Enjoying the event this week are Margaret de Micheaux (centre), her niece Yvonne Boyle (second right), Michael McLaverty's daughters (far left and right) Maura Cregan and Sheila Cunningham and Dr Sophia Hillan, who works with Maura as McLaverty's Literary Executors.
LISBURN woman Margaret de Micheaux has donated a unique collection of work by Irish writer Michael McLaverty to the Linen Hall Library's Michael McLaverty Archive this week.
Margaret, a former teacher at Wallace High School who now lives in France, decided to donate her collection when she discovered from her niece, Yvonne Boyle, that a Michael McLaverty Short Story Competition was taking place at the library and wondered if she would be interested.
Little did she know what impact this would have on Margaret, who declared, "Oh, but I did my thesis on him while studying in France and it's in my attic in Flaviac," her adopted home, which is 500 miles up the Rhone Valley.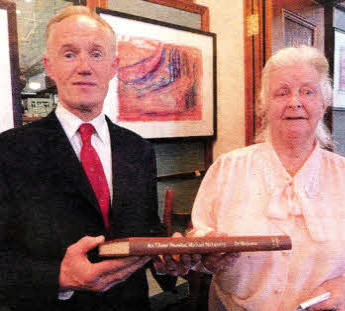 John Killen, Librarian, presents a bound copy of Margaret's thesis to her at the event on Monday.
Margaret, 81, was born Margaret Duff in Lisburn, attending Central Primary School and Wallace High School.
She lived on the Hillsborough Old Road and is from a well-known local family. Her brother Harry was the Town Clerk of Lisburn, whilst her uncle owned Duff's Furniture Factory and the late Norah Boyle was her sister.
However, upon finding love and moving to France Margaret, who graduated from Queen's in 1952 with a BA Hons Degree in French and German and taught French at Wallace High School, had to study in France to gain the necessary qualifications to teach in France.
Under pressure with her growing family, the Lisburn woman quietly studied, gaining her qualifications and then stowed her thesis away in the attic, where it remained until now.
Margaret explained: "I graduated from Queens with an Honours degree in French and German and then married a French farmer. I had to work to earn my own living as the farm couldn't just keep us. In Ireland I could teach French and German, but my qualifications from Queens weren't worth anything in France so I had to learn to teach English. It took me seven years because in that time I was having babies, so it was pretty tough." Margaret met French farmer, Raymond de Micheaux, in Ardeche while working as an 'au pair' in the de Micheaux family prior to her degree, marrying in 1955 when Margaret moved to France.
Studying by correspondence through the University of Lyon, teaching herself and travelling just for exams, Margaret's last diploma entailed writing a thesis, which Ied her to choose Michael McLaverty as her subject.
She said: "I was homesick so I decided I'd study an Ulster novelist, this was one way I could keep up contact with my old country. My mother's cousin Gerald Leonard was the Principal at Lisburn Central and he knew Michael McLaverty and introduced me to him. We corresponded with each other and he was extremely kind."I didn't talk about my studying, I just put the thesis away in the attic and forgot all about it."
Margaret's thesis was accepted in 1960, when she began teaching English in the state school in Privas, retiring in 1985.
Her five children have pursued various careers throughout France, two teaching locally.
As well as her thesis, Margaret had unique and original correspondence with Michael McLaverty and several of his books printed in German and autographed by him.
Margaret decided to donate her collection to the Linen Hall Library Michael McLaverty Archive, much to the appreciation of John Killen, Librarian and Brian Adgey, Director. This archive has been shared with Boston University in the USA and will now also be shared with the University of Lyon, France.
Her donation was honoured by a presentation to her of several bound copies of her thesis at the Library at a special event on Monday, which was attended by friends and family, including her four nieces, along with Michael McLaverty's daughters Maura Cregan and Sheila Cunningham, and Dr. Sophia Hillan, a representative from his estate.
Margaret said: "I was overwhelmed with the honour bestowed on me. They made such a fuss of me, it did me good, and boosted my self esteem.
"I'm 81 now and I have been thinking about what to do with all my treasures. Obviously the Linen Hall Library will make good use of this collection and I have a copy of my thesis; I'm very proud of it."
stacey.heaney@ulsterstar.co.uk
Ulster Star
01/04/2011