Table quiz raises funds for Marie Curie Cancer Care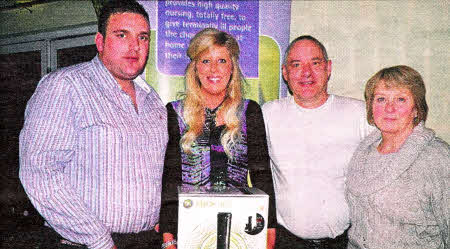 Leff to right: Kenny Murtagh, Gillian Murtagh, Phil Kane community Fundraising Manager and Nan McBride volunteer with Down Fundraising Group.
A SUCCESSFUL table quiz was held recently in Temple Golf & Country Club to raise funds for Marie Curie Cancer Care.
Many loyal supporters of Marie Curie attended and all age groups were there. Paul Kirk was quizmaster and was assisted by his wife Dawn and John Welshman.
This event was organised by the Down Fundraising Group who meet in Drumaness Football Club on the second Wednesday of each month. A ballot was held and also an auction of an Xbox 360 Elite which greatly added to the monies raised - the total being £ 1220.00.
Kenny Murtagh was the successful bidder for the Xbox 360 Elite which had been donated - there were also ballot prizes - and all had been donated anonymously.
The organisers thanked all those who attended the table quiz and those who contributed in any way even though they could not attend Anyone interested in helping Down Fundraising Group in any way can contact the Chairperson Andra Martin, 9756 3169 or Phil Kane, Community Fundraising Manager NI. South 9088 2066, If you think you would like to help but live outside the Down area there are other groups working away raising very necessary funds, and there may be one nearer to you.
Ulster Star
11/03/2011