Mayor chooses `Lisburn2gether' as his official charity
by STACEY HEANEY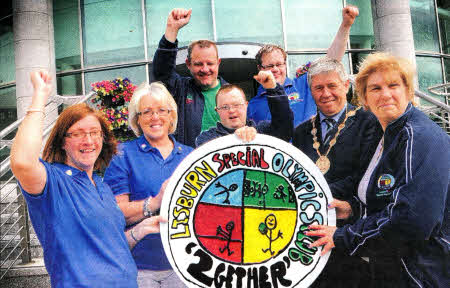 Celebrating the announcement that the Mayor of Lisburn, Councillor Brian Heading, has selected Lisburn 2gether Special 0lympics Club as his Mayoral Charity are Helen Mahood, Secretary of the Club; Lorraine Foster, Chairperson of the Club; Jamsie O'Neill, Athlete, and Joan Thompson, athlete. Also pictured in the back row are Athletes Stephen Gibson and Andrew Welch.
THE Mayor of Lisburn, Councillor Brian Heading has officially named 'Lisburn 2gether Special Olympics Club' as his chosen charity for his Mayoral Term.
'Lisburn 2gether' Special Olympics has worked steadily over the years to allow those with an intellectual disability to compete in their chosen sports at a local, national and international level.
Speaking about why he chose this local Lisburn based charity; the Mayor said that he wished to raise the profile of the work undertaken by Lisburn 2gether and that of the Special Olympics and support athletes to reach their potential. This charity provides the opportunity for individuals from Lisburn who have an intellectual disability to participate in their communities and develop belief in themselves.
"The commitment of the athletes, coaching staff and the volunteers within Lisburn 2gether is outstanding within the local community. Within the Lisburn Club athletes can participate in badminton, football, swimming and bocce. In fact, three local Lisburn athletes representing this charity recently won a gold medal each whilst playing at the 'Special Olympics Summer Games' in Athens. For more than four decades, the Special Olympics has been bringing one message to the world: people with intellectual disabilities can and will succeed if given the opportunity." Over the years the Council has had a strong affiliation with the Club and has supported Lisburn's Special Olympians when they have participated in competitive games. It was a tremendous achievement when the Lisburn Special Olympians won 6 gold, 4 silver and 2 bronze medals during the '2010 Special Olympics Ireland Games' in Limerick and demonstrates the wonderful talent of our local athletes.
"Lisburn 2gether is part of Special Olympics Ulster which provides year round sports training and competition to over 2,000 peopIe. This organisation demonstrates daily that people of all backgrounds can work together to celebrate what the athletes have in common and helps provide invaluable assistance to all these athletes helping them realise their full potential in their chosen sport." Lorraine Foster, Chairperson of Lisburn 2gether was delighted that the local charity was chosen as the Official Charity for Councillor Heading's Mayoral Term.
"Lisburn 2gether Special Olympics Club considers it a great honour being chosen as the Mayoral Charity of the Year by the Mayor, Councillor Brian Heading. We see this as a wonderful opportunity for Athletes, Volunteers and Clubs to work in partnership with Lisburn City Council. This partnership will create opportunities for us not only to fundraise but to build and develop the existing skills of our athletes, raise the Club's profile and promote the very talented and dedicated athletes who come along each week and train in their chosen sport."
The Mayor's Office is keen to hear from any organisations or persons who would like to get involved with the Mayor's Charity and help to raise funds for Lisburn 2gether. Please contact the Mayor's Secretary on D28 9250 9331 or email mayors.secretary@lisburn.gov.uk.
"I hope that during my Mayoral Term I will have the support of the whole Lisburn community to raise awareness of the work of Lisburn 2gether and the important role of the Special Olympics within our community," Mr. Heading said. "This charity works to change attitudes and is where lessons of ability, acceptance and inclusion are taught on the field of competition by the athletes. "Through fundraising efforts I would like to be able to raise a significant sum, which would help these local Special Olympians reach their potential and succeed in their chosen sports," concluded Councillor Heading.
stacey.heaney@ulsterstar.co.uk
Ulster Star
15/07/2011