Mayor looks back on `exciting' year as his term ends
`I'm privileged and honoured to have been elected'
by STACEY HEANEY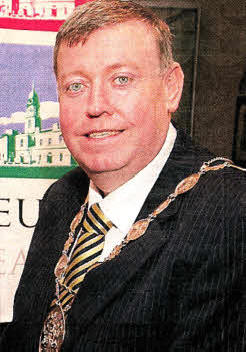 LISBURN Mayor Paul Porter has taken time to reflect on his year as the city's First Citizen as his time as Mayor ends next week.
As he prepares to hand over the Mayor's chain of office, Alderman Porter said that the past year had been "tremendous."
Mr. Porter stated: "It has exceeded all of my expectations. For me to be the First Citizen of Lisburn has been a great experience, it has been a privilege and truly humbling.
"It has not just been great for me, but it has been wonderful for my wife Nicola and my lovely children Joshua and Holly. I would like to publicly thank them for their help and their long-suffering this year, as I know they have not seen me as much as they normally would. As a family it has been a great privilege and honour for us.
"I would also like to publicly thank my DUP colleagues for putting me in this great position, but most importantly I would like to thank the people of Lisburn for their support, culminating in my recent re-election, where I almost trebled my vote, so again, I send a big thank you for the support in the last year."
Mr. Porter continued: "My theme this year has been volunteering, combined with celebrating the Armed Forces and it is my greatest privilege to bestow the Freedom of the City to the Royal Irish Regiment on Saturday. I can't think of a more fitting way to leave office than to bestow this honour on them. I know Lisburn will come out in style to show our full support to the men and women in the Armed Forces.
"With regards to volunteering, I had so many receptions for so many worthy groups and individuals. It was my aim to bring more people from the city into the Council. I wanted my Mayorship to be for everybody; that is something I strived for and hopefully I achieved that in my Mayorship.
"It has been a very busy, exciting and challenging year and I wanted to put my own stamp on the chain of office and drive Lisburn forward to deliver the positive message that Lisburn is punching above its weight and can compete with Belfast."
Looking back over some of his highlights from the past year, Mr. Porter said: "It was a great honour to meet Her Majesty The Queen and Prince Philip, the Duke of Edinburgh when I officially welcomed them to Lisburn, that is something myself and Nicola will remember for a long time.
"Also, the Mayor's Parade and the Party in the Park when thousands of people lined the streets and we had over 16,000 in Wallace Park for the concert of Jedward and Joe McElderry. The sun was shining and it was a great day for Lisburn.
"As well as that it was a great privilege to have my wonderful Mayor's Charity, the Lisburn Carer's Forum raise substantial money and there is still time for groups to participate in this year's Half Marathon and Fun Run to raise money for the charity and put money into the charity that represents people with special needs."
He added; "I'd like to say a big thank you to the people of Lisburn who have come alongside me to help me, Nicola, Joshua and Holly. I would like to wish the new Mayor every success and I look forward to being a part of Lisburn Council, to having more time with my wonderful family who have seen me a lot less than they should this year and to also reducing my golfing handicap a little!"
With many highlights over the past year, Mr. Porter also took time to think over some of the more difficult times he faced during his Mayorship.
"There were some challenging times," he said. "The most difficult was during Christmas with the snow crisis and I'd like to thank the council staff, who, as a result of meetings I held, came in and cleared the streets. We also had the water crisis straight after the snow, and again I'd like to thank the Council staff who helped to distribute bottled water to help resolve a situation that was by no means the Council's fault. We delivered bottled water to retirement homes and distributed water to those who needed it. These challenges show just what local government can do when you have to. Lisburn came up trumps and made a difference and that is something we can build upon.
"I have also submitted five groups to the Queens Awards for Volunteering, which is the MBE or OBE of the volunteering world and I look forward to some of these groups achieving the award."
Mr. Porter concluded: "There have been so many highlights this year and amazing events we have held, such as the Circuit of Ireland Rally and the Mayor's Parade and Party in the Park. Anything I have tried to do, the support of the people of Lisburn has been immense. It was my vision to keep Lisburn moving forward and to continue to fight for the city and I will continue to do that as a Councillor."
stacey.heaney@ulsterstar.co.uk
Ulster Star
20/05/2011