Michelle's love and dedication honoured with national award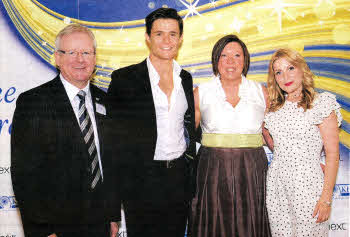 Michelle Gifford, winner of the Carer Award at the Life After Stroke Awards in London this week with The Stroke Association Northern Ireland Director Tom Richardson and 'Wicked' stars Mark Evans and Louise Dearman.
LISBURN carer Michelle Gifford has been honoured with a national award for the love and dedication she has shown to her husband Stephen after he suffered a stroke at the age of just 31.
Michelle received a special Carer's Award and mingled with a host of celebrities last week at the star-studded Life After Stroke Awards in Central London.
The annual awards ceremony, which is organised by The Stroke Association charity, honoured the achievements of stroke survivors throughout the UK.
A total of 11 Life After Stroke Awards were handed out at Claridge's Hotel in what proved. to be an emotional day for both winners and guests alike, especially for 33 year old Michelle.
Stephen had his first stroke in December 2008 at the age of 31. The couple had been married just three years and Michelle, who had been working as a Manager in Tesco, had to give up her job to care for him full-time.
When Stephen was admitted to hospital, he was critically ill and Michelle was taken into a side room to be told that it could be fatal.
The local woman barely left her husband's side in the ensuing days and weeks as she prayed for signs of his potential recovery. Initially his progress was very slow — he had no speech, he was bedbound and unable to sit up.
Michelle explained; "I remember the first time I saw some signs of life in Stephen as his eyes followed someone walking past his bed. It was an amazing feeling after being told there was no hope. I made up folders of photos and brought DVDs into the hospital for Stephen to watch as we found he responded to different kinds of stimulants."
Michelle has now dedicated her life to caring for Stephen. She is a positive, proactive and practical person who encourages Stephen to live as full a life as possible within the remit of his abilities.
The loss of personal freedom and shared activities have been a big challenge for Michelle, however a simple fishing trip represented a major step forward for Stephen, as Michelle explained; The whole family was overcome with emotion when we saw Stephen back doing what he loved — fishing in Scotland. Let me tell you, there were a lot of tears that day."
Tom Richardson, Director for The Stroke Association Northern Ireland commented; "Around one million people in the UK are living with the effects of stroke. The Life After Stroke Awards not only highlight how stroke can affect anyone at any age, but also the impact the condition has on families, carers and health care professionals.
"Michelle and all of the award winners have shown tremendous courage in rebuilding their lives after a stroke or in helping others to do the same. I am delighted that we are able to recognise and celebrate their achievements with some of our celebrity friends."
Famous faces in attendance included singer Stacey Solomon, presenter Lynda Bellingham, Strictly dancer Kristina Rihanoff, actors Amanda Donohoe and Charlie Clements, Turner Prize nominated artist Angela de la Cruz, war hero Johnson Beharry, football manager George Burley and West End performers Mark Evans and Louise Dearman.
The Stroke Association is dedicated to combating stroke in people of all ages. Its services directly help people affected by stroke and their families and carers. To find out more about the work of The Stroke Association, you can ring 028 9050 8020 or visit www.stroke.org.uk.
Ulster Star
10/06/2011