Secretary of State ready to tackle world's toughest horse race
for charity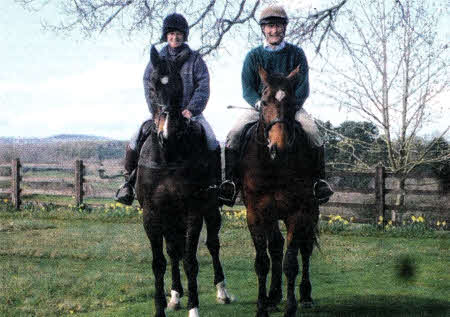 Secretary of State Owen Patterson and his wife Rose
SECRETARY of State Owen Patterson and his wife Rose will be racing on horses 1000km across one of the world's last great wildernesses, the Mongolian steppe, in August for three very good causes.
The Mongol Derby is considered the world's longest and toughest race, as one of Hillsborough's best known residents explained.
"We will be taken to a secret starting point several hours away from Ulaanbaatar and given a GPS navigation aid," explained Mr. Patterson. "In imitation of Genghis Khan's Pony Express system of communication across his enormous empire, we will change horses every 40km at isolated nomadic settlements or uurtus. Weight is at a premium, so we will only carry 5kg of overnight kit and clothes for 10 days.
"The nomadic villages will provide mutton stew and fermented mares milk, which is apparently considerably more disgusting than it sounds. The weather will vary from fierce sunshine to violent storms with freezing nights. We expect to have to cross mountains, marshes, forests and desert. River crossings will be our only opportunity to wash.
"We have been told to expect rabies, ticks and severe chafing amongst other hazards. .Of the 20 riders so far committed, we are the only British and the only over-50s."
Mr. Patterson went on to explain their reasons for undertaking such an arduous trek. "We are doing it now, because if we don't we never will but we do hope to raise significant sums for our three charities - The Royal Irish Regiment Benevolent Fund, The Midlands Centre for Spinal Injuries and Mercy Corps Mongolia," he continued. "The Royal Irish Regiment Benevolent Fund provides financial help and other much needed support for members, their widows and children. Three soldiers from the Regiments were killed during their recent tour of Afghanistan and another 16 were severely injured in the service of their country.
"The Midlands Centre for Spinal Injuries provides extraordinary care for patients with severe spinal cord injuries and undertakes groundbreaking stem cell research which has a worldwide reputation.
"Mercy Corps Mongolia tackles hunger, poverty and conflict with programmes focusing on economic opportunities for the rural communities of Mongolia."
Local people can support the Patterson's fundraising effort by logging onto www.charitygiving.co.uk/patersonsmongolderby. Alternatively, make a cheque out to 0 W Paterson (and write Mongol Derby on the reverse) and send it to The Rt Hon Owen Paterson MP, Secretary of State for Northern Ireland, House of Commons, London, SW1A OAA.
Ulster Star
05/07/2011