Parkview pupils join the battle to save Music Trust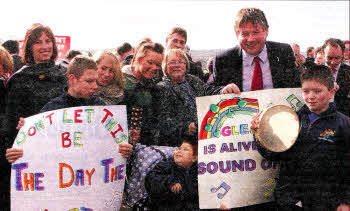 Basil McCrea MLA and party colleague Sandra Overend meet with children and young people petitioning for Parkview's and other schools vital services to be protected
CHILDREN and young people with severe learning disabilities from Parkview School and other special schools across Northern Ireland have gone to the Assembly to urge the Health Minister not to stop funding for the Music Therapy Trust.
The Trust has helped support approximately 600 children over the past eight years, but is currently at risk of losing all their funding following the reallocation within the budget.
The group from the special schools handed over a petition to MLAs asking Health Minister Michael McGimpsey to protect funding for the Trust.
"The Music Therapy services provided by the Trust are vital to the children and young people at Parkview and other schools across Northern Ireland," said Lagan Valley MLA Basil McCrea, who met with the children and young people during their visit to Stormont.
"Music therapists work most commonly with the children and young people who have little or no abilities to communicate via speech. Therefore music therapy allows them a means to communicate and interact."
"These professionals work alongside physiotherapists, occupational and speech and language therapists to aid the most vulnerable in our society, and help them develop alternative forms of communication."
"This is a vital link for parents and loved ones and must be protected in the budget. I will be standing alongside these children and young people today in support of the petition to protect these services for Lagan Valley," he concluded.
The protestors were also supported by South Antrim MLA Thomas Burns.
Mr. Burns said the service was vital: "Many of these children have no verbal communication skills and the only way they can get a message across is via music therapy" he said.
"Music therapy is often financed as an additional service in schools but it makes a significant impact
for children who have such limited understanding and difficulty with communication.
"This is a very cost effective therapy which works and any cuts will have a disastrous effect on a vulnerable group of young people."
Ulster Star
1/03/2011