Mysterious plaque leads to search for Girl Guides history
by STACEY HEANEY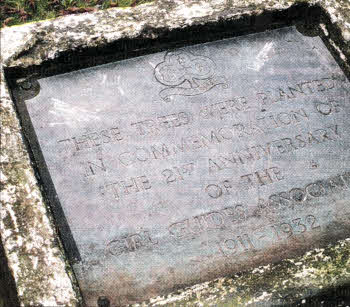 The commemorative plaque in Wallace Park.
A HISTORIC plaque dedicated to the Girl Guides is set to be refurbished as part of the on-going work in Wallace Park. However, the plaque, which was erected in 1932 to commemorate the 21st anniversary of the Girl Guides, remains something of a mystery and members of Girlguiding South Antrim are hoping local readers can provide more details about it.
The commemorative plague states:' These trees were planted in commemoration of the 21st anniversary of the Girl Guides Association 1911-1932.'
Rosalind Morcombe, the County Commissioner for Girlguiding South Antrim said: "Lisburn Council has kindly agreed to restore the Girl Guides commemorative plaque which is in Wallace Park, as part of the refurbishment of the area.
"The Council are hoping to refurbish the plaque as it is and put it on to a new granite plinth. It is hoped the Mayor will re-dedicate the plaque and we would like anyone who has a connection with the plaque to be part of that ceremony.
We have met with Alan Poots from Lisburn Council who asked us if we knew any of the history of the plaque and to which trees it refers. Unfortunately, none of us could help as the plaque was put there in 1932 to commemorate the 21st anniversary of the Girl Guides.
The only information I have managed to get is that the Guide Company from Railway Street, I believe, used to meet in the bandstand in the park during the war as the Army were using the Church hall. I know that a lady called Kay Beck (nee Orr), who is now a member of South Antrim Trefoil Guild, Lisburn branch, was a member of 4th Lisburn Guides and made her Guide Promise in the bandstand."
Rosalind added: "I have asked as many people as I can who would be the right era if they have any recollections of the plaque and drawn a blank. We hope that local people can help us to discover this small piece of our history."
Anyone who may have some information about the history of the plaque or of the Girl Guides at that time, can contact Rosalind on 0771 2579479 or email ggsa.county.commissioner@hotmail.co.uk
The commemorative plaque in Wallace Park.
stacey.heaney@ulsterstar.co.uk
Ulster Star
22/07/2011