Natalie comes through the trauma and proves she's a survivor
Lisburn woman overcomes depression and heart surgery to re-build her life
by MARY MAGEE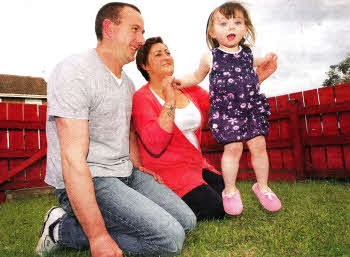 Natlie and Stephen Wallace with their daughter Lucy 1306JC11
A WOMAN who runs one of Lisburn's best known hairdressing salons has spoken for the first time of how she fought and won her battle against depression and survived open heart surgery.
Natalie Wallace (29) of Rathvarna Gardens, Ballymacash, who runs Copper, only discovered she had a tear in her heart which threatened her life when giving birth to her two-and-a-half year old daughter Lucy in December, 2008.
Natalie had became pregnant with no complications, but while having a routine checkup late into her pregnancy at the Royal Victoria Hospital nurses noticed she was suffering high blood pressure coupled with a high heart rate.
She was taken into hospital and it was decided to induce her.
But she suffered an allergic reaction to gel which was being used and after many hours in labour and with no sign of the baby coming her blood pressure began to rise along with her heart rate.
Late into the night the consultant came into the room and told her husband Stephen that enough was enough and she must have an emergency Caesarean.
"I had no idea just how ill I was," said Natalie.
"I was told later that I was close to going into a cardiac arrest. It all went a little bit crazy when the consultant said I was going for a Caesarean but I remember little about it.
They rushed Natalie into theatre and her daughter was born at 10.30pm.
Results from tests by the special investigation unit run by Dr. Paul Johnson and Dr. Mark Spence showed that the pressure of child birth had opened up a small tear in her heart.
Natalie was told it would be too dangerous to get pregnant again and she would need open heart surgery to repair the damage.
They told me that I was lucky I was in the hospital when I went into labour because if I had been on my own both myself and Lucy may not have been here."
It was the following day before Natalie was allowed to hold Lucy.
She had to return to the RVH for more tests which showed the hole was 3cms wide.
"I never had any tell tale signs," said Natalie. "People may have it and not realise, they never have any problems and it was only because of the pressure of labour that it was detected with me."
Natalie, who had been a bubbly outgoing girl, became so depressed she found it hard to even go outside.
"Basically I believed that I was dying. I got very depressed and put it down to post natal depression," said Natalie.
She found it hard to shrug off her depression and eventually it all became too much. She was treated at Lagan Valley and the Lisburn Health Centre for severe depression.
"I was really bad, it just seemed to have one bad thing after another," recalled Natalie. "I got really depressed. I was a different person. I even found it hard to go outside.
"I just felt I was in a big dark hole and I could not get out of it.
"My husband Stephen, my mum and best friend helped me get out of it - they were my saviours. The depression just hit me like a brick wall. They were encouraging me to go out but I refused. I didn't want to speak to anyone. My best friend had to take me out to Tesco once a week so I could do my shopping.
"I even refused to allow Lucy to be with anyone other than myself. I would barely allow my husband to hold her, she had to be with me at all times."
Finally in November 2 last year she had her life saving surgery which was the turning point of her life. After some weeks recovery she took over Copper in December.
"Surgery was the best thing that could happen to me," she said. "I was told that I could have more children because surgery had been a success. I now feel on top of the world. I am no longer on tablets. My energy levels are good which is great. Before I was tired and exhausted and could not see any light at the end of the tunnel.
"I have a fabulous life and am a lot more positive. Just the same old me."
Natalie now plans to raise money for the Chest Heart and Stroke Association. Her relatives in England have already raised money for the British Heart Foundation. On June 24 there will be a big launch at the Copper of the TG Colours where there will also be a big raffle and all proceeds will go to the Chest Heart and Stroke Association.
Ulster Star
17/06/2011