Heading elected new Mayor of Lisburn
by JENNY MONROE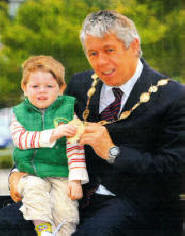 Newly elected Mayor of Lisburn SDLP Brian Heading and his two year old grandson Aodgan Morris.
LISBURN has a new Mayor. Councillor Brian Heading has become only the second SDLP councillor to be elected First Citizen of the City.
He was elected at the Council's AGM on Wednesday. His deputy is DUP Alderman William Leathem.
The Mayor was proposed for election by party colleague John Drake and this was seconded by the DUP's James Tinsley.
Sinn Fein Councillor Arder Carson proposed his colleague Angela Nelson take up the position and this was seconded by new SF councillor Stephen Magennis.
A recorded vote was held with 25 votes for Mr. Heading out of the 30 councillors.
Accepting the new role, Mr. Heading welcomed both returning and newly elected members to the council. He said: "During my time in office as first citizen I intend to work with a variety of organisations in the area of promoting community relations. I am very committed to working in the area of peace and reconciliation for the benefit of all of the citizens of the City of Lisburn".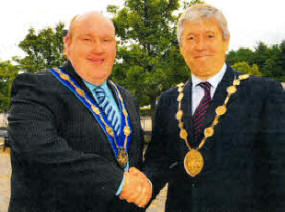 He also took time to remember the late SDLP Councillor and former Mayor Peter O'Hagan, who passed away 17 months ago. "I wish my colleague Peter O'Hagan could be here," commented Mr Heading.
Mr. Leathem said he was delighted to be unanimously endorsed as deputy Mayor and said he is committed to moving Lisburn forward in the current economic times.
Other appointments to the Council's Standing Committees were:
Planning - Chairman Alderman James Tinsley (DUP); Vice Chairman Councillor Paul Stewart (DUP). Corporate Services - Chairman Councillor Stephen Martin (Alliance); Vice Chairman Councillor Roy Young (DUP).
Environmental Services - Chairman Councillor Andrew Ewing (DUP); Vice Chairman Councillor James Baird (UUP).
Leisure Services Committee - Chairman Councillor Thomas Beckett (DUP); Vice Chairman Alderman Paul Porter (DUP).
Economic Development - Chairman; Alderman Jim Dillon (UUP): Vice Chairman Alderman Allan Ewart (DUP)
The Chairman and Vice Chairman of the Strategic Policy Committee will be agreed at the next meeting of the Council.
New Aldermen appointed
SEVEN Councillors were made Aldermen at Wednesday's annual meeting. of Lisburn City Council.
They are Paul Porter, James Tinsley, Jim Dillon, Paul Givan, William Leathem, Jonathan Craig and Allan Ewart.
Ulster Star
27/05/2011