Woman loses wedding money in new internet scam
by MARY MAGEE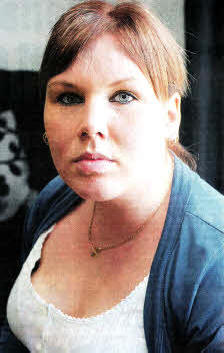 A LISBURN woman who lost £300 last week in a scam has warned other internet users about the dangers of selling goods on-line.
Nicola Vance (24) from Knockmore was selling G Star designer jeans for £140 to help towards her wedding fund. The mother of four-month-old Alfie plans to get married next year.
She had been selling other goods as well, but it was the two pairs of designer jeans that seemed to capture the attention of one internet user claiming to be 'Darren Smith.'
He said he wanted the jeans as a birthday present for a friend Eden Henry in Nigeria. Not surprisingly Nicola was initially very sceptical, but 'Darren' sent her enough e-mails to persuade her all was legitimate.
He said he understood her concerns about exchanging money and if she had any worries about dealing with someone over the internet she should set up a Paypal account. He even forwarded her an address to help her set up one. As she found out later. it turned out to be fake.
He even said he understood her concerns about dealing with someone from another country and was willing to pay up to £60 for postage and package for the jeans.
She got them weighed to send them to an address in Nigeria.
When she told staff at Pond Park post office they voiced their concerns about what she was doing, but Nicola was certain everything was okay.
However Nicola was convinced by 'Darren' that what she was doing was safe.
Nicola had set up a 'pay pal' account which even had the same logo and address as the real Paypal accounts. She received an email asking for her bank details and got an email back confirming the account had been set up.
Then 'Darren' emailed to say he had clicked the box twice when transferring the money into her Paypal account and instead of the agreed £140 for the two pairs of designer jeans she had got £280. He asked if she could send the £140 back and she agreed.
When she went to check she got message alerts saying Attention, Attention' and rang the number on the fake account to ask what the problem was.
"I told them about the message alert and explained the buyer had put too much into my account. The person on the other end said they were aware of the mistake and told me that I would have to give the buyer back £140."
When she logged into the fake Paypal account she had to answer a security question and refunded the money.
But she then got a message claiming the server had crashed and asking her to send another £200 the same way.
"I sent an e-mail claiming that we did not have £200," she said. "If they had not got greedy I probably would not have given it another thought but I rang a friend and said things did not seem right. She was certain I had been conned."
When Nicola rang the real Paypal they sympathised but told her she had not set up an account with them, "When I realised what I had done I started to cry," said Nicola. "I used money from my wedding fund, I had to forward all the emails to them.
"I rang the post office to see if the jeans could be stopped but they were already away. I realised I had been conned but I was still getting emails from the fake Paypal asking for £200.
"I got another email just last night. I was so angry with myself. We were selling stuff on the internet for our wedding.
"I never believed that I have got caught like this. You hear of the elderly being conned and think that is bad but they are vulnerable. I never believed anyone would have been able to con me but they are so cunning and convincing.
"I have been so upset since it happened."
A police spokesperson said people should always be cautious when selling or buying goods online or when entering personal or financial information on websites.
"The number and variety of on-line scams are continually evolving and so it always good practice to verify that companies or people offering goods and services are genuine before parting with any money," she said.
"Police would recommend only using reputable retailers and websites that you have used before or that have been recommended by someone you trust.
"It is equally important to protect yourself when selling goods online. It is advisable to only use accounts you have set up yourself and ask buyers to transfer money in. Never rely on email links sent to you by third parties. Do not refund cash without first checking that the goods have been returned as agreed or that there has been a genuine mistake.
"Personal information is big business in the criminal world and everybody needs to make absolutely sure that their details are secure.
"Never reveal your account details, PIN number, date of birth, mother's maiden name or anything else that could be used to access bank accounts.
"If you are concerned that you may have been a victim of online fraud please contact your local police on 0845 600 8000."
Ulster Star
17/06/2011