Engagement excites royal enthusiasts
Junee Southern Cross newspaper 11/11/2010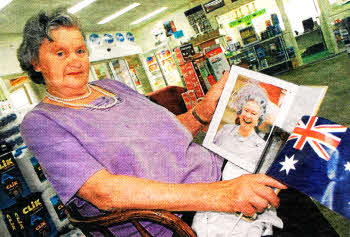 ROYAL WATCHER: Royalist Norma Higginson has shared her thoughts on the engagement of Prince William of Wales to Catherine Middleton.
THE engagement of Prince William of Wales to Catherine Middleton has given Royal enthusiasts a great deal to look forward to.
Junee's Norma Higginson (nee Dunlop Hillsborough) is one enthusiast who has followed the royal family since growing up Northern Ireland during WWII.
Having met the Queen a number of times and Prince Charles with a baby Prince William during a tour of Australia, she said the engagement would excite younger generations of Australians.
While the details of the wedding including the gown design, hair-do and ceremony itself will be at the forefront of people's minds, she expects many from the Commonwealth will flock to London to line the streets on April 29 next year.
While many have been quick to look into Prince William giving his future wife the engagement ring of his late mother Princess Diana.
Mrs. Higginson said after losing their mother at such as young age, it was wonderful way for Prince William to keep the bond with her.
"It is wonderful that Prince William has passed on his beloved Mothers' engagement ring to Catherine, that bond will help Prince William over the celebrations and through the years of his married life," she said.
Southern Cross (Junee Australia)
25/04/2011