Angels honoured at Nurse of the Year Awards
| | |
| --- | --- |
| | |
| L-R are: Anne McMahon, Pfizer, Edith King from Gilford, Runner-up in the Team Manager Award and Janice Smyth, Director of the RCN in Northern Ireland. | L-R are: Minister for Health, Social Services and Public Safety, Edwin Poots MLA, Esther Gishkori, runner-up in the RCN Northern Ireland Nurse of the Year Award and Dr Peter Carter, Chief Executive & General Secretary, RCN. |
THREE local nurses have received awards at the RCN Northern Ireland Nurse of the Year Awards.
Lagan Valley based Esther Gishkori, lead for nursing and governance for prison heaitehcare at the South Eastern Trust was runner-up in the Nurse of the Year Award, beating five other candidates. She was presented with the accolade by new Minister for Health Edwin Poots at a glittering ceremony in the Culloden Hotel.
In 2008, the South Eastern Trust took on responsibility for the provision of health care in Northern Ireland's prisons. Based at the LVH, Esther has changed the nursing structure to promote better lines of communication and governance, and provided leadership for her nursing colleagues within the service.
Her nominator attributes the major improvement in prison health care to Esther's leadership qualities and her ability to persuade others to take a course of action. She said Esther has been very prisoner-centred in her approach and has shown great resolve when faced with challenges and resistance to change.
The members of the judging panel were unanimously impressed with the passion Esther demonstrated when talking about her patients, with how much she has achieved within a short time, and with her absolute commitment.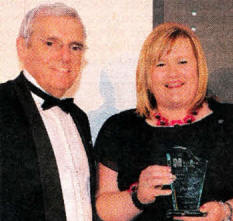 Dr. Peter Carter, RCN, Pauline Hanna from Moira.
Pauline Hanna from Moira was commended in the Northern Ireland Nurse of the Year Award.
Pauline is an Anticoagulant nurse at Belfast City Hospital and was awarded for her development of the nurse-led anticoagulant service which delivers specialist care, monitoring, treatment, education and counselling.
In 2010, Pauline assessed 140 new patients and provided treatment and monitoring through almost 5000 out-patient appointments. Thanks to her work, patients are seen and managed as out-patients and at home. With careful monitoring, the need for hospital care is reduced and patients have a better quality of life.
One of the patients in her care said: "It is people like Sister Hanna and her team who are responsible for new ideas and innovative practice in our hospital. She does it in a quiet, pleasant but efficient way and is not one for the limelight."
Edith King, who is Nurse Manager at Mountvale Private Nursing Home in Dromore, was runner-up in the Team Manager Award, sponsored by Pfizer. Edith has been has been at the forefront of several initiatives in the 51-bedded home to improve patient care, as well as leading and motivating the 80 staff based there.
Edith impressed the judging panel With her clear vision for the home and ability to inspire her team to go the extra mile. She implemented innovative ideas such as the residents interviewing for new staff, and has encouraged and facilitated community involvement in the home.
In a recent inspection by the RQIA, the home received the rare accolade of being designated a leading provider in relation to the services provided to patients. Edith's success as a manager can be seen in decreased staff turnover, reduced rates of accidents and complaints, and increased occupancy levels within the home.
Commenting on the Awards, RCN Northern Ireland Director Janice Smyth said: "Congratulations to Esther, Pauline and Edith.
"During these times of challenge and increased pressure on the system, I am hugely encouraged at the work undertaken by nurses throughout Northern Ireland and the difference this is making to improving services and patient care.
"Nurses are often described as the glue that keeps the health service together, however, this is a perfect example of how nurses are in a position to see where making changes can contribute to a more efficient and better service for patients."
Ulster Star
17/06/2011