THREATENED WITH LEGAL ACTION FOR FLYING FLAG
Oaklee's policy on flying of flags `completely and utterly absurd' - Craig
by JENNY MONROE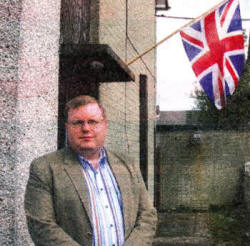 DUP MLA Jonathan Craig outside the house in the Oaklee Housing development where the resident wishes to fly the Union Flag.
DUP MLA Jonathan Craig has hit out at Oaklee Housing Association after he was contacted by a Lisburn constituent who has been told to remove the Union Flag from her home or warned she will face legal action. Mr Craig believes Oaklee's policy on the flying of flags is "completely and utterly absurd".
"I have spoken to them and this seems to fly in the face of the freedom to express oneself and goes against everything that our forefathers fought for in Word War One, Two and many recent and ongoing conflicts around the world," he said.
Mr. Craig described the policy as "oppressive", and added: "When I contacted Oaklee they informed me this was their policy in line with the aims and objectives of creating a 'Shared Future'. This policy appears to suppress one's right to express their culture. It is oppressive and does nothing for creating better community relations.
"There is nothing offensive about the flag of our nation and I do not understand what the problem is. Furthermore this resident has alleged that she has been threatened with being listed as being an 'anti-social tenant', she has also told me that she has been informed that she can keep the flag up but could be subject to a legal challenge."
Mr. Craig said he is calling on the Housing Association to show "some common sense". However another resident in the development says the Housing Association were very clear about the policy from the outset.
She said: "People are entitled to their culture and beliefs but not to blatantly disregard the wishes and feelings of their neighbours.
"When we all signed up to the shared vision for the development we were all in agreement that we would live together as one community. We all agreed with Oaklee's policy of no emblems.
"I've no problems if people want to put flags up in their houses but not to cause anger and outrage. In a mixed area respect for diversity is needed."
A spokesperson for Oaklee Housing Association explained the aims of the development are to promote community development and foster good neighbour relations.
"The principles of the shared neighbourhood programme include recognition by tenants that everyone in the area is equal regardless of religious, political or cultural belief", they said.
"Before allocating accommodation each tenant was asked to sign up to a neighbourhood charter which encourages them to respect and to be sensitive to their neighbours and engender a community spirit. All our tenants signed the charter at the commencement of their tenancy," they commented.
"This is a diverse cross community scheme which has successfully adopted these principles since 2009 and we wish to build on the success of the shared neighbourhood programme. Oaklee supports involvement by its residents in the management of their community and we will endeavour to continue to promote the shared neighbourhood programme for the benefit of all our tenants," the spokesperson concluded.
Ulster Star
08/07/2011