Poet gives us all something to laugh about
by JULIE-ANN SPENCE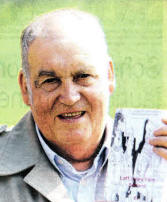 LISBURN man Oliver Armstrong is hoping to put a smile on people's faces with his new book `Laff Lines from Ireland'.
Under the pen name Ollie Jaye, Mr. Armstrong has just released the book, which includes over 160 humorous poems and cartoons, which he hopes will lighten the mood amongst local readers.
"I started off writing songs but I always did poetry as well," explained Mr. Armstrong.
"I thought that I would put them all together in a book and ended up with three or four books so I decided to send them out to different publishers.
"I thought there was good potential and was really pleased that Choice Publishing decided to publish one and even gave the book its own page on their website."
Mr. Armstrong, who is now in his seventies and has written over 200 songs over the years, said he doesn't know where he gets his inspiration from. "It just comes to me," he explained.
Mr. Armstrong, who used to work as a Quality Control Inspector for the Ford Motor Company in Belfast, as well as a booking agent for local bands, is thrilled. to see his work in print and is hoping that if 'Laff Lines from Ireland' is successful, he will be able to publish more of his work.
"It gives me a real sense of achievement," he said. "It is the first time I have had something to look back on."
'Laff Lines from Ireland' is on sale via the Choice Publishing Book Store.
julieann.spence@ulsterstar.co-uk
Oliver Armstrong with his book Laff Lines from Ireland. US1711-105AO
Ulster Star
06/05/2011