Health Minister opens new operating theatres
by JULIE-ANN SPENCE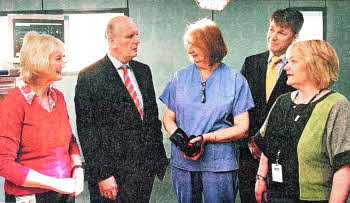 Dr Lorraine Harrison (Consultant Anesthetist), Health Minister Michael McGimpsey, Anne Bramall (Theatre Sister), Hugh McCaughey (Chief Executive, South Eastern HSC Trust) and Susan Baxter (Clinical Manager Theatres/Anesthetics)
THIS week Health Minister Michael McGimpsey officially opened two new replacement operating theatres at a cost of £4.Im in Lagan Valley Hospital.
The replacement theatres will ensure that surgical procedures are provided in a high quality, safe and effective, clinical environment along with modern technological equipment which will provide first class care and treatment for all patients.
The state of the art theatres include a Swedish Maquet modular system that offers a gold standard in operating rooms, creating a complete sealed unit down to the substructure. The powder-coated stainless steel walls incorporate the antibacterial qualities of silver to inhibit bacteria in the theatre. This future-proof concept of a modular system can keep pace with technological developments - and provides functionality, flexibility and efficiency. The new theatres also utilise the latest LED theatre lights, which do not interfere with the natural skin tone of the patient and allows the team to effectively assess the oxygenation of the blood during procedures.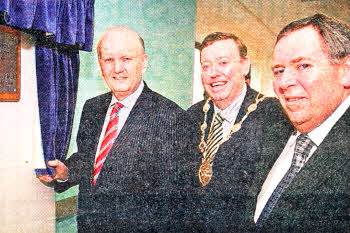 Health Minister Michael McGimpsey, along with Lisburn Mayor Alderman Paul Porter and Colm McKenna, chairman of the South Eastern Trust, opening new operating theatres at Lagan Valley Hospital- US0911-528cd
Speaking at the opening the Minister said: "These new theatres will ensure that patients receive first class care and treatment. Surgical procedures are provided in a high quality, safe and effective, clinical environment along with modern technological equipment.
"I am very impressed by the quality of this new facility and by the professionalism and enthusiasm of the staff who work in it. "The people working in our hospitals aim to provide the very best services they can, and my aim is ensure they can do so in the best, most modern facilities available."
Seamus McGoran, Director of Hospital Services (South Eastern HSC Trust) said: "I am absolutely delighted with our new theatres in Lagan Valley Hospital. This means that we will be able to continue providing a high quality elective surgical service to our patients for many years to come. I am also really pleased that we have been able to considerably improve the working environment for our committed and hard working staff."
Councillor William Leathem, Chairman of Lisburn City Council's Corporate Services Committee added: "Lagan Valley Hospital is a vital part of the Lisburn community and it is great news that such a significant investment has taken place right down to the surgical instruments in these two theatres. Surgery is a daily occurrence in the hospital and I am sure that both surgical teams and patients alike will be very pleased with these theatre facilities."
julieann.spence@ulsterstar.co.uk
Ulster Star
04/03/2011