The loss of a baby - and a journey to faith
Lisburn woman's new book tells story of lost daughter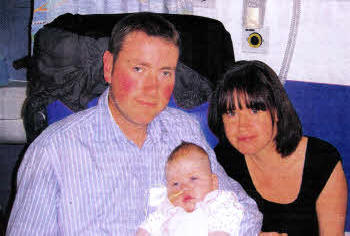 A GRIEVING mother has put pen to paper to write her first book in memory of her darling baby daughter Ella who died from an undiagnosed rare brain disorder in December, when she was just nine months old.
Carolyn Houston (32) who originally came from the Antrim Road, but now lives in Waringstown, wrote 'Over the Rainbow' based on Ella's short life and her own journey to faith which she hopes will raise awareness of life limited children in NI who require Hospice care.
Twelve nurses from Craigavon who cared for Ella attended the launch on Saturday night at the Jethro Centre in Lurgan. Carolyn's inspiration for the book came at the end of January while still grieving for her loss.
"It was just something that I wanted to do," said Carolyn. "I needed a focus and I wanted others to see how no matter how bad things get, you can get through it."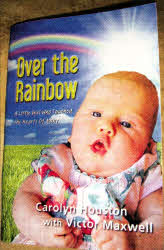 Ella was born on March 5, 2010 with no major complications. By the summer she showed little signs that she was sick and Carolyn, who also has a two-and a-half year old daughter Martha, noticed she wasn't putting on much weight. Concerned for her daughter's welfare, in July Carolyn took her to casualty at Craigavon Hospital.
When she was admitted it was discovered that she was having seizures and a brain scan revealed some shocking news. Ella had suffered severe brain damage.
"It came as a terrible shock," said Carolyn. "No-one seems to know how or why it happened and it still remains undiagnosed."
Doctors at Craigavon sent the brain scans to world renowned specialists in Holland and Manchester but they could not make a diagnosis. The only suggestion was Ella may have suffered a rare infection.
Meanwhile Ella spent the next ten weeks at the Royal as her condition was stabilised. She was put on epilepsy type drugs but still continued to have seizures.
Carolyn and her husband attempted to bring Ella home to be with the family but her needs were too great. She was taken to Craigavon where Carolyn and her husband spent most of their time with her. Hospice nurses looked after her occasionally to allow Carolyn and her husband to spend time with Martha.
Sadly, at just nine months, Ella passed away on December 12, 2010.
During her difficult and troubled time in hospital Carolyn often found solace and support from the
nurses, several of which gave her prayers to read.
"It helped me greatly," she said. "I had so many mixed emotions but that really did help."
At the end of January Carolyn decided to write the book on her journey through death and bereavement to give her something to focus on and as a small way of helping others.
"I wanted something positive to come out of this," she said.
"When we received the news about Ella we felt that we were the only ones going through this. Our emotions were all over the place. But I did find some comfort in the fact that we are not alone and you do get through it."
Carolyn hopes her book will also help raise awareness of the many children who go undiagnosed with brain disorders in Northern Ireland each year.
"I hope that in some way it will help other parents give them support and help when it is hard to get closure," she said.
"We still do not know why Ella was so ill. Physically she looked fine, it was only the scans which revealed just how ill she was. Even now we do not know if it is a genetic disease or a viral infection."
Carolyn co-wrote the book with Victor Maxwell. It is currently available to buy through the Faith Mission Bookshop and Vic Ryn Inspire bookshop in Lisburn, priced £5.99.
Ulster Star
10/06/2011