Lisburn group helps to fund groundbreaking research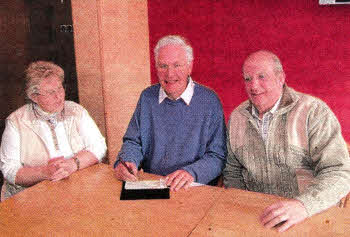 Branch Treasurer Stephen Anderson signing cheque for £4300. Looking on are Agnes McKissock, Vice-Chair and Raymond Flanagan, Assistant Treasurer.
MEMBERS of the Lisburn branch of Parkinson's UK have donated £4,300 towards groundbreaking research currently being carried out to identify those with Parkinson's who are at risk of developing dementia.
The Lisburn branch has been busy raising funds for the research, which is being undertaken by Professor David Burn at Newcastle University, Cambridge University and Imperial College London.
The project is very dear to the hearts of local members, some of whom know people with dementia.
Lisburn branch Chairman, Jim Henry said:
'A number of us know people with dementia and it's just awful. One in three people with Parkinson's could develop some sort of dementia and this study is to identify those who are particularly susceptible.
"Getting involved in a project that really interests us is important to us, because we will
have the opportunity to get regular feedback on how our donation is being spent. It is really motivating, and that's why we're raising more money."
The study, which will cost almost £1.2 million over five years, will see Prof Burn and his team test whether it is possible to identify people with Parkinson's who have a high risk of developing dementia. Over that time they will follow around 300 people who are newly diagnosed with Parkinson's and carry out different studies.
The researchers will keep track of which people develop the symptoms of dementia. And they'll find out if getting dementia can be predicted by brain scans, genetic tests and the presence of certain proteins in a person's blood or cerebrospinal fluid.
Identifying which people with Parkinson's are at risk of developing dementia would allow doctors to prescribe anti-dementia drugs earlier. More is also understood about dementia and this knowledge can help develop new treatments that ultimately slow down, stop or even reverse dementia.
Funds have been raised throughout the year through various functions, whilst a number of local groups have adopted the Lisburn branch of Parkinson's UK as their chosen charity.
Jim added: "Over the last four years, basically since we were set up, we have donated in excess of £30,000 to various research projects."
Steve Ford, Chief Executive at Parkinson's UK, said: "We continue to rely on the generous support of our branches across the country to raise much needed funds for research."
For information and support call the Parkinson's UK free confidential helpline on 0808 800 0303 or visit www.parkinsons.org.uk.
Ulster Star
22/04/2011