Family launch debut CD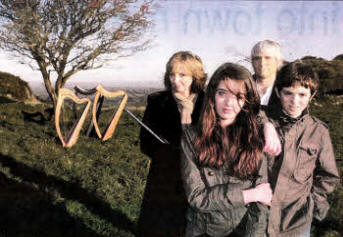 The Patience Family
A FAMILY group from Dromore are to launch their debut CD, 'Here at Last' later this month.
The Patience Family are made up of Mum and Dad Aine and James and children Jack (14) and Katie (13).
James has been a guitar player for many years and took up harp playing ten years ago after being given a harp by a friend who was a harp maker. Jack and Katie started playing the harp at seven years of age and quickly became good players — both have been Under 12 Ulster Champion Harp players.
Aine learned her first tune on the flute for her 40th birthday party and has been playing ever since.
"We began to play together as a group about four years ago and started by playing mainly background instrumental music," explained James.
"During that time we were fortunate to have played at many venues throughout Northern Ireland including Stormont and Hillsborough Castle where we have played for the Queen.
In the last two years we started playing small concert venues and developed the repertoire to include songs, old and new."
He went on to say: "Following many requests for the music to be recorded we began working on our first CD about a year ago and following many recording sessions we now have our debut album 'Here at Last'.
"The CD is a selection of the many songs and tunes we have played over the last couple of years and included a couple of self penned pieces. We had no idea there was so much work involved in the whole process but are very pleased with the final product."
The Patience Family will be launching the new album at Fresh Oil Music Centre in Dromore on Friday March 25 at 8pm.
For further information about The Patience Family, including excerpts from the CD can be found on the website www.thepatiencefamily.co.uk
Ulster Star
18/03/2011