Lisburn apprentice scoops top industry award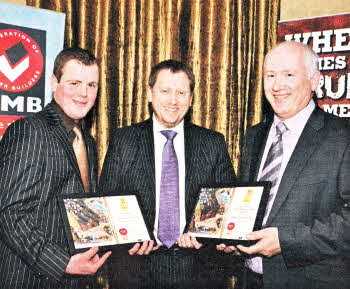 Philip Green, Barry Neilson Chief Executive ClTB-ConstructionSkills NI and Alan Stewart (tutor).
MOVE over Alan Sugar - Lisburn has got its very own apprentice.
Bricklayer Philip Green has been named Apprentice of the Year' for the Northern Ireland region in the Master Builder of the Year Awards, a nationwide search for the industry's top talents.
Philip, who is self employed, was chosen from hundreds of entries for his high standard of workmanship, great attitude, professionalism and dedication to his work.
He will now go through to the national final and compete against other apprentices from around the UK, and could win the coveted title of Apprentice of the Year' at the tenth Master Builder of the Year Awards as well as a cash prize of £1,000. The national winner will be announced by celebrity property guru Phil Spencer who will present the accolade at a luncheon in at the Park Plaza Westminster Bridge in London.
Maire Nawaz, director of FMB Northern Ireland region described Philip's work as 'outstanding.'
"Philip is an outstanding example of an apprentice showing commitment, dedication and determination" she said.
His tutor Alan Stewart, who nominated Philip for the award, said he always knew he had a natural talent.
"Philip has always strived to achieve the highest standards both in college and the workplace and takes a great deal of pride in the work that he produces. He has always demonstrated a determination to success and always set himself extremely high standards," said Mr. Stewart.
"I have always found Philip to be a very pleasant young man, who has always got on very well with all staff and fellow students during his time in college. He has always demonstrated a mature approach to his studies and work. Philip is by far the best apprentice bricklayer I have ever had the pleasure to train and work with."
In 2008 and 2009 Philip won silver medals in brickwork Skill build Northern Ireland finals and in 2010 he was awarded the gold medal for brickwork. In 2009 Philip went to the Skill build national finals in Scotland and awarded the Bronze medal and in 2010 at the National Final in Wales he achieved Bronze medal for brickwork.
Philip has also been involved in a selection process organised by UK Skills, to select the bricklayer who will represent the UK at Worldskills 2011 in London.
He was selected to join a squad of three bricklayers who will train with the UK Skills training manager at least one week per month from now until June 2011.
Mr. Stewart said: "This achievement has been possible due to the huge commitment both in time and effort that Philip has demonstrated, to get to this stage Philip has been in training with myself in college or across in England with the training manager full time for 9 weeks since the beginning of September with a substantial number of weeks training to follow, this demonstrates a real desire to improve and to be the best in the UK and earn the Place to represent the UK at Worldskills."
Ulster Star
18/02/2011