Pink ladies and T Birds get the night that they want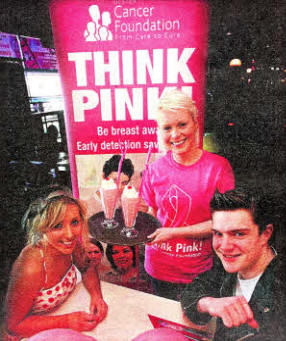 Suzi Mcllwain from Ulster Cancer Foundation serves milkshakes to Katie Cochrane and Alex Jackson to promote Pink Ladies Night in aid of Ulster Cancer Foundation. US101 -141A0
YOU might not really be going to the High School Hop, but you can dream about those Summer Nights at a special Grease themed 'Pink Ladies Movie and Meal Night' on Friday, April 1 to raise fund for the Ulster Cancer Foundation's Think Pink! breast cancer awareness campaign.
Ed's American Diner and Lisburn Omniplex Cinema have teamed up for what looks sure to be a bam alang a ding dong night as Grease enthusiasts are invited to dress up as their favourite character to watch and sing-a-long to the movie before enjoying a three course meal at Ed's Diner, followed by live entertainment from XIII.
Tickets cost £24.95 per person, or £22.50 per person for a table of 10 people and the best dressed Sandy or Danny will win a £50 voucher on the night.
Suzi Mcllwain, Community Fundraising Officer with the UCF said: "Over 1,000 women are diagnosed with breast cancer each year and annually around 300 die because of the disease. We hope that lots of Pink Ladies and T-Birds will join us for this fabulous event. Not only will it be a great night out, but all proceeds will help UCF continue to provide a wide range of care and support services, free of charge, to breast cancer patients and their families in Northern Ireland."
Grease is being screened at 8pm in the Omniplex followed by dinner at 9.30pm in Ed's with) top party band XIII kicking off the live entertainment at 10.30pm.
To make a reservation call Ed's on 9260 5277, book online at www.edsamericandiner.com If you would like information and advice on how you can raise funds for UCF contact Suzi on 9068 0746.
Ulster Star
11/03/2011