European ploughing championships to be held in Hillsborough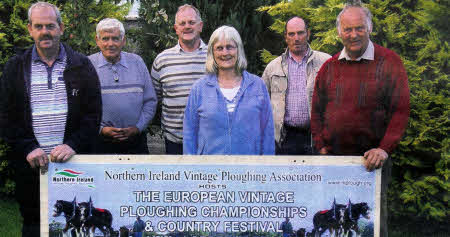 Left to right, Victor Scott, Jamie Smith, Ronnie Coulter (Chairman of NIVPA), Miriam Ward (Secretary of NIVPA), Alan McLaughlin (Vice-chairman of NIVPA) and Robert Kidd
THE Northern Ireland Vintage Ploughing Association (NIVPA) are hosting the 14th European Vintage Ploughing Championships & Country Festival at Hillsborough next month.
The festival is being held on the 2 and 3 September on lands kindly granted by Mr. Raymond McKee, St James Road, Hillsborough.
Thirteen European countries will be represented at the ploughing match, these men and women are trying to promote and sustain interest in vintage ploughing and to preserve vintage ploughing outfits for the coming generations.
Included in these Championships will be Horse ploughing.
There is something for everyone at the event and anyone wishing to have a stand or craft stall should contact Miriam Ward on 92699295 or 07842798997 or Helen 07900053805 or e-mail info@niplough.org
The Northern Ireland Vintage Ploughing Association (NIVPA) web site https://niplough.org/
Ulster Star
12/08/2011