Political legends prepare to bow out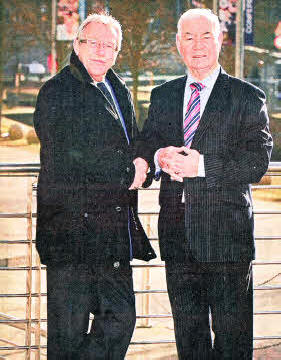 Aldermen Seamus Close and Ivan Davis are stepping down at the next election. USO911-524cd
THE two longest serving councillors in Lisburn's history have confirmed they will bow out of politics in May after each completing 38 years of service. Aldermen Seamus Close and Ivan Davis will not be standing in this year's local government elections, bringing to an end political careers which began in 1973. This week the two men sat down with the Star to look back on their illustrious political careers.
You were both first elected to the council in 1973. How did you get involved?
SC: There had been a by-election for the South Antrim seat in Stormont. A man called David Corkey was standing and my father knew someone who knew him so we ended up dropping leaflets. It was a time of great upheaval and out of that emerged the local Alliance Party. I remember the first slogan was 'Towards Government'. We thought it was such an amazing thing to have Protestants and Catholics in the one party. By 1973I was the chairman of the local Alliance branch and was selected to run in Area C for the council. I must have quite a sight - 24 or 25, longish hair, flared trousers. But 604 people gave their first preference and I was lying fifth in a five seater. I can still remember a policeman at the count saying 'Congratulations Councillor Close' and realising what that meant.
ID: There was a lot of turmoil at the time and the late William Belshaw, who was well known at the time even though he wasn't a councillor, persuaded me it was no good sitting at home when there was an opportunity to make a difference. The Unionist Party was the dominant force but William Belshaw, Robert McNeice and myself were elected for the DUP. I was returned from Area D and the poll was topped by the late Samuel Semple.
Then you both went onto to the Assembly in 1982
SC: By then we had both established a reputation of being in politics to serve the people. In many respects the easy thing is to get elected, that's when the hard work starts. In any case our parties put us forward and the people elected us. The assembly was set up by Jim Prior on the basis that since there was no trust between the parties there should be 'rolling devolution', giving a little power until there was some trust built up and then a little more. It was a fascinating experiment and might have been a success if it hadn't been for the Anglo-Irish Agreement.
ID: It was a very interesting period, and it shows how things have moved on. Jim Allister was the Chief Whip and Gregory Campbell and myself were deputies. I thought it was working very well, the committees were getting things done. It also gave us experience of a parliamentary system, but then the Anglo-Irish Agreement happened and it was a very, very dangerous period. The night before it was signed a group of unionist councillors stayed in the Council offices in Hillsborough opposite the Castle before the police sealed the area off. We were watching as the police moved in overnight and then the helicopters started arriving with the Prime Minister and the Taoiseach. What was so disappointing was watching the late Harold McCusker, who I had a lot of time for, and other unionist politicians outside the gates without even a copy of the agreement, it was a shameful way to treat elected representatives. It was doomed to failure but it's worth recalling that at the time Jim Allister drew up a document predicting all the things that would follow. I still have it and when I look back now I can see about three quarters of it did indeed happen. I think you have to ask yourself: What was all the protest for when you look back at the the loss of life, the destruction and pain.
SC: It was one of the few times Ivan and I were polar opposites. The unionists started to adjourn
the council as a protest against the Anglo-Irish Agreement which I thought was just crazy and for
months I warned them I would go to court. I don't think they really believed me, but then I did and
some of my mates ended up on the wrong side of the judgement.
When I went to the next meeting there was a crowd and I had to get a police escort in and there was an 'Ulster Says No' banner sitting on my chair. I was moving home at the time and security people came and put in bulletproof glass and doors. There were times the police were virtually living in my house. The Agreement spelt the end of the assembly. The unionists decided to turn it into a Grand Committee in opposition and we felt it wasn't why it was there and withdrew before i collapsed.
What achievements will you look back on with most pride?
ID: I think anything that has been achieved had the community at the heart of it. When the new councils came in 1973 one of the responsibilities they were given was recreation. I always tried to focus on that and I think we can be proud at what has been achieved. We have first class facilities like the Leisureplex, the Linen Centre and the Civic Centre as well as the activity centres. I remember a schoolboy at Laurelhill wrote to the Star saying young people wanted a cinema in Lisburn. We arranged to meet him and his father and he presented us with a petition with 1000 names. Through council involvement, private investment and the pressure from the public we got what is recognised as one of the top cinemas in Ireland.
SC: When the council first met in June 1973 there was talk of a new Civic Centre and we started putting money away in 1981, yet it was 2000 before it was built, so I regret the length of time it takes to get things done in the council. But when I think that when we took over we just had the old swimming pool, and look at the community centres, activity centres, multi-use games areas as well as the big projects, we haven't done badly. When we bought the buildings for the Linen Centre there was opposition, but you have to have vision. I wonder what the present councillors' vision is for Lisburn in another 38 years? We missed a fantastic opportunity for a world class sports stadium at the Maze.
ID: When I went into my first council meeting in 1973 John Gilchrist, who was to become the first Mayor, told me 'When you are going into battle, whether it's business or council, you need to be decisive'. That was sound advice, it's important to be decisive to get things done.
SC: There was a picture in the Star of me standing on a hillock and asking a group of children 'What would you like to see here' and they said a centre for the community. It's now Knockmore Community Centre. On another occasion we were trying to get something done about the terrible number of deaths on the Moira Road and campaigned for a pedestrian crossing and lights. We got them. It's delivering on those sort of things that gives you most satisfaction.
| | |
| --- | --- |
| | |
| lvan during his term as Mayor | Seamus canvassing during one election |
Is there one particular highlight?
SC: To be elected nine straight times is fantastic,
something that has never been done before. Being elected as Mayor was wonderful because it's your peers saying they want you to be First Citizen. I was nominated by the late Walter Lilburn and he took some stick for it. There was the OBE and the Freedom of the City - I just can't pick one highlight. It also opened so many doors - I've met Royalty, Prime Ministers and Presidents, been given a platform to speak and attended a course at Harvard University. But it was all only possible because of that first election. 604 people took a big risk in May 1973 by giving me their precious vote and it all came from that.
ID: I had only been Mayor for a short time in 1991 when the Queen came to Thiepval to present new Colours to the UDR. I met her at Thiepval and had lunch at Hillsborough Castle and it's good to know that before the end of the year a memorial will be unveiled in Lisburn to the UDR. I was always very conscious that you were doing things on behalf of the community, without their support you couldn't do it. Lisburn is very fortunate that its most valuable resource is its people. In all areas like education and civil society we are very lucky and that's what's made it special. It's also nice to be recognised by your peers.
Any regrets?
SC: I went for the leadership of Alliance and was defeated. Then in 1998 I topped the poll in the assembly election and I got a call from the Minister of State Paul Murphy saying it had been agreed I would be the Speaker. As it turned out the man who beat me for the leadership was offered the Speaker's job and resigned as party leader. I was asked to run again, in fact I probably wouldn't have been opposed, but because of what had happened the first time I said No. I was hurt by what had happened and felt the party had been given the opportunity if it had wanted me as leader, but looking back it was probably the wrong decision. When you come to the end of your career you're left with 'what if'.
ID: I regret very much that when Peter Robinson, Harold McCusker and Frank Millar drew up the Task force report it wasn't taken on board by the unionist leaders. The same with the Commonsense document that was drawn up by John McMichael. Looking back, if the unionist leadership had accepted those ideas agreement might have come much sooner. We are also very lucky that we have families who were willing to put up with all time and energy we have given to politics. That's something budding politicians should bear in mind, there are sacrifices to be made.
SC: Absolutely right. Sometimes the Troubles came to our homes. Without the support of loving, devoted and caring families, we couldn't do it.
Will you miss it?
ID: I told the local association three years ago that I was planning to stand down, to give time for younger people to be introduced, so I have had some time to prepare but I will miss the cut and thrust of debate. I've always enjoyed sport so that will fill a lot of the time and being a Freeman hopefully we'll still be involved in some way along with Dame Mary and Janet Gray.
SC: Probably not. Politics is like a bug and it takes over a lot of your life. I could not point to one councillor I have met and say 'I despise you'. You don't always agree and you fight your corner but you leave your battles and squabbles in the chamber. I have enjoyed tremendous humour and friendship but I decided in 2006 I wouldn't contest another election. I thought it would be a heck of a wrench but in fact you begin to get your own life back. It's only then you realise what you have given up. It's been an honour and privilege but I'm looking forward to a more tranquil life and the health to enjoy it with my wife and family.
The parallel careers of the two men from Lisburn
ALTHOUGH the two men have represented different parties, they have had remarkably similar careers.
Both have won nine straight council elections, are former Mayors and been awarded the OBE. In 2004 they each received the President's Certificate of Recognition for Longstanding Service to Local Government and then last year, the two, along with former councillor Charles Poots, became Freemen of Lisburn.
Even on the bigger political stage the two friends had remarkably similar experiences. They were elected to the Northern Ireland Assembly in 1982 and again, following the Good Friday Agreement, in 1998.
And both were prominent in their own parties - Ivan Davis becoming Chief Whip of the UUP and Seamus Close Deputy Leader of the Alliance Party.
Ulster Star
04/03/2011