242 new jobs created with expansion of Crumlin firm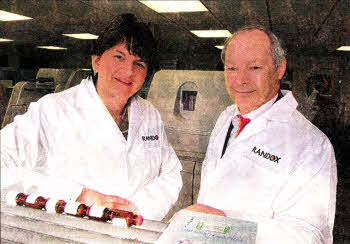 Enterprise Minister Arlene Foster at Randox Laboratories with Managing Director, Dr Peter Fitzgerald. Photo by Simon Graham/Harrison Photography
A CRUMLIN firm is to create 242 new jobs as part of a £15.8 million expansion.
Randox Laboratories specialises in the development of sophisticated chemical and biochemical diagnostic tests and devices, primarily targeted at hospital, clinical and veterinary laboratories and currently employs over 850 people worldwide, including 620 in Crumlin.
The investment is being supported by Invest Northern Ireland which has offered £2.4 million of assistance. The investment will allow the company to upgrade its facilities and strengthen its sales, marketing and production capability. The new jobs will be created across those functions and will collectively deliver £5.6m annually in salaries.
MD of Randox, Dr. Peter Fitzgerald, said: "We have set ambitious revenue targets for the next few years which will depend on increasing our sales and marketing activity and penetrating new markets. We have identified sales opportunities in the rapidly expanding economies of Brazil, Russia, India and China and will be targeting these with our extensive portfolio of products. We also have many new revolutionary products planned for release in 2011 that will make patient testing faster, simpler and more accurate.
Enterprise Minister Arlene Foster said: "Randox is one of Northern Ireland's most successful and respected companies.
"This significant investment will enable the company to increase sales of its innovative products in
the growing medical diagnostics market, which is a multi-billion pound industry and one in which Randox continues to excel. Through the new jobs created, this investment will also benefit the wider local economy, in terms of salaries and employment opportunities."
MLA Thomas Burns said the expansion was 'a tremendous boost'. "The fact the majority of the posts will be in the cutting edge category of scientific research and development as well as sales and marketing is hugely important" he said. "It further emphasises the importance of the Randox brand in terms of worldwide recognition. "These are the type of employment opportunities that other parts of the world would do everything to encourage and protect."
SDLP Lisburn Representative Pat Catney also welcomed the news. "At this difficult economic time it is heartening to hear of the progress and growth of local businesses, particularly high value added firms like Randox. I am delighted to hear that this pioneering and world leading company is expanding and am hopeful of the employment opportunities it will bring to people living throughout Lisburn."
Ulster Star
25/03/2011