Richard ready for gruelling arctic icecap crossing
ADVENTURER AIMS TO BE YOUNGEST EVER IRISHMAN TO ACHIEVE FEAT
by STACEY HEANEY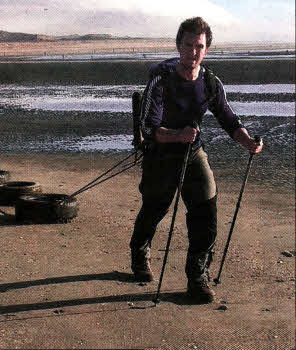 LISBURN adventure athlete Richard Franklyn is to attempt a gruelling unsupported crossing of the Greenland Icecap next month to raise funds for a charity which helps sick children.
Should he succeed, 21-year-old Richard will become the youngest person from the island of Ireland to achieve the feat.
He will leave Lisburn on April 5 to attempt to make a complete east to west coast crossing of Greenland following the line of the Arctic Circle - a distance of 550k.
The venture, which Richard says he has always wanted to do, will also allow him to raise funds for the Helping Hand, a charity which Richard supports, at the Royal Belfast Hospital for Sick Children.
"This is something I have earmarked for a while now, but it is not an easy undertaking" he said. "It will take strength, skill and fitness.
"I decided to raise funds for Helping Hand because I was treated at the Royal myself as a child and that's how I learned about them. 100% of all the fundraising will go to charity and I have been lucky to be supported by Finlay Communications.
"I spent the first four or five years of my life as a child in the hospital, so I really want to raise awareness of the charity. They are a very small group with only one full-time worker, so I want to support them. "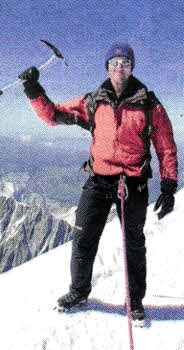 Keen adventure racer Richard has previously taken on challenges in Africa, including climbing Mount Kilimanjaro, and several adventures in the Alps. However, his crossing of the Greenland Icecap will be his fiercest to date and will see him fly by helicopter from Reykjavik to the east coast of Greenland where he and a team of four others will then leave all contact with human life behind as they step into the vastness of the icecap for the 30-day adventure.
"In order for this to be unsupported, once we depart the east coast everyone will have to carry ourselves and our equipment, we won't see anyone until we reach the west coast," Richard said.
The route will involve crossing the world's largest island and second largest icecap while hauling all his equipment on a pulk which will weigh around 80/90kg.
It is estimated this challenge will take around 30 days to complete, and during this time Richard will face Arctic storms which can send temperatures plummeting to minus 40 degrees which can freeze exposed skin in seconds. Other hazards to be faced include hidden crevasses which could swallow both man and pulk, and the very real possibility of meeting polar bears which inhabit this region.
In preparation for this extremely challenging event Richard has undertaken a strenuous training regime including marathon running, triathlon events and regular tyre pulling sessions along Murlough Bay.
The Lisburn man also travelled to Norway with his team mates where he had the opportunity to test equipment and practice survival techniques in an environment which will be similar to that of the Greenland Icecap.
Richard hasn't set a target for the amount he hopes to raise, but he says it has been "humbling" to see the amount of support he has received.
Looking ahead he said: "This will be a mental challenge, it's 27 to 30 days, 24/7, but it's getting to the stage where I have talked about it for so long I can't wait to get stuck in and get at it."
To follow Richard's progress log on to www. richardfranklyn.com or contact the charity either on www.helpinghandrbhsc.com or emaíl helpinghandrbhsc@btconnect.com.
Richard training for the arctic
stacey.heaney@ulsterstar.co.uk
Ulster Star
18/03/2011