Orange Lodge helps US visitor trace local roots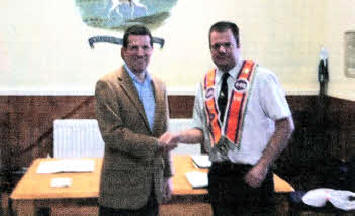 Robert J Graham from Waynesburg University and Mark Gibson Secretary of Tullynore LOL 602 in Drumlough.
WHEN a local Orange Order Lodge found out that the Provost from an American University was interested in tracing his family roots and would be visiting Northern Ireland this month they got straight on to the case and discovered he had strong links with the Drumlough area.
Robert I Graham from Waynesburg University in Pennsylvania, through his own research, knew he had family connections in the area and was put in touch with Derek Crone, District Master of Hillsborough No. 19 district who then spoke with Mark Gibson Secretary of Tullynore LOL 602 in Drumlough.
Mark got to work and came across names and signatures of Robert's relatives in the old minute books going back as far as 1897, which he was able to then show him when he paid a visit to Drumlough last weekend.
Robert was over for meetings with Queen's University and was invited to Tullynore Orange Hall. He was also taken to have tea with the Hynds family who own the house where his great great uncle had once lived and was then given a tour of the area including Hillsborough Court House and Fort and the Council chambers.
The District Master said Robert was delighted to see his relatives signatures and visit Drumlough.
He said: "I would like to publicly thank both Alderman William Leathem, Deputy Mayor and former Mayor Alderman Paul Porter who invited Robert to the Mayor's parlour and gave him a tour of the Council Chambers - it was very much appreciated."
Ulster Star
01/07/2011