Rory's US glory gives Darren something to `Crowe' about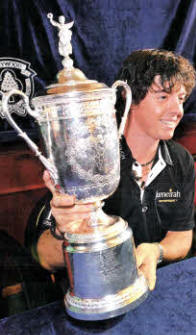 RORY McIlory's US Open success was no surprise to his former Ulster and Irish teammate Darren Crowe from Dunmurry Golf Club.
Darren, who first saw the raw talent of a young McIlory eight years ago, says Sunday's success is the first of many top honours for the Holywood man.
"Rory can now go on and win many majors," says Darren. "Getting that first one is a big step. He missed out in the Masters with that highly publicised final day disaster, but as a fellow golfer I can understand how it happened. That sort of pressure is incredible and once the shots and the game begins to go it is hard to stop.
"I think Rory learned a lot from that experience and that is why the first couple of holes were crucial on Sunday. Once he got over those it was pretty easy."
Indeed, Rory did make it look all too easy as he blew away the biggest names in golf four days in a row. His driving and shots to the green were so accurate he was never really in trouble on the difficult Congressional course in Washington.
"Even when I first played with Rory when he was 14 years of age at the West of Ireland competition you could see how good he was from the tee. I had heard stories about this young kid from Holywood but that was my first time to see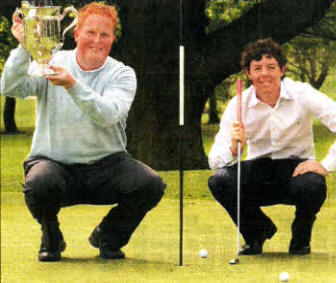 him. His driving was excellent and he just always seemed to find the fairway. We played together for Ulster and the Irish teams and we used to practice together.
"Even then, it was clear to see he was going to go to the very top. He went one way, I went the other," joked Darren.
"Since he has turned pro he hits the ball about 30 yards further than I remember when he was an amateur and that is a huge part of his game at this level. His accuracy means he is rarely off line and never has to play many rescue shots.
"There will be many Majors ahead for Rory if he can stay if he can stay motivated.
---
Who's that golfer who looks like Mr Falls?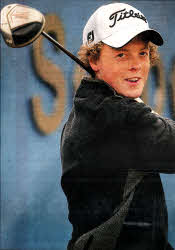 HE might be mistaken for golf's newest superstar Rory Mcllroy when he's out on the course, but it was back to the classroom as normal on Monday for Richard Falls to teach his P4 class.
Richard, who now lives in Waringstown, is forever being mistaken for the fresh faced 22-yearold Rory who completed a remarkable four days on Sunday to clinch his first major title with an incredible eight-shot victory in the US Open.
Richard who is 28, and plays a four ball every Saturday at Belvoir Golf Club, is actually used to people asking for his autograph while others shout 'Rory' to try and get his attention.
While it may irritate some, Richard takes it all in his stride.
What they certainly have in common is a love of golf. Even if Richard isn't quite in Rory's class, well who is?
I am suite a keen sportsperson and I have decided to concentrate on that and try to get my handicap into single figures," he said.
One time I was in a golf club and there was a Ferrari sitting outside. People in the clubhouse were telling the staff they had seen Rory playing. I had people watching me on the course where really believing I was Rory.
"Another time I was walking into a country club when people started shouting 'Rory'. I even got a text from a woman who was staying at Lough Erne golf resort asking why my picture was hanging in the golf resort - she didn't know about Rory then. "The older children at the school who are doing projects know who Rory is and have remarked that I look like him."
It's not clear if Rory has ever been stopped and asked if he's still teaching in Finaghy Primary
Rory McIlroy lookalike Richard Falls US2511-549cd
Ulster Star
24/06/2011