Outgoing president looks back on a 'fantastic' Rotary year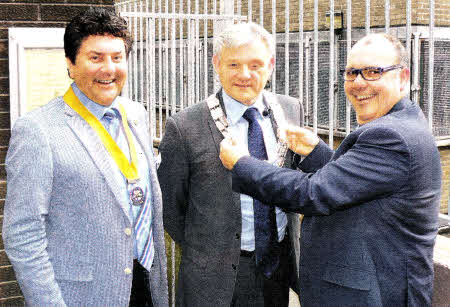 The new president of the Rotary Club of Lisburn, Dale Orr, is presented with the chain of office by outgolng president Trevor Stewart- Included is new vice president Jim Matchett
THE outgoing president of the Rotary Club of Lisburn has thanked club members for helping him to enjoy a 'fantastic year'.
Speaking at President's Night, Trevor Stewart was able to look back on a packed year with many highIights including a fundraising Golf Invitational at Lisburn, leading the largest group from any club in Ireland to the District Conference in the Slieve Russell Hotel, the Tree of Life project at Tesco last Christmas which raised thousands of pounds for three charities and Focus on the Crocus which raised money and awareness amongst local schools of the campaign to eradicate polio.
Trevor also thanked his wife Janice and daughter Laurie for their support throughout the year.
He then went on to present a number of awards.
| | |
| --- | --- |
| | |
| Hubert Patterson is presented with his Paul Harris Fellowship by Trevor Stewart | Stephen Gilbert, who received the Paul Harris Sapphire Pin |
Well known Lisburn businessman Hubert Patterson became a Paul Harris Fellow, the Rotary movement's highest award. It was made in recognition of Hubert's services to the community and charity organisations.
The Paul Harris Sapphire Pin was awarded to past president Stephen Gilbert who has 28 years service in Rotary.
Several years ago he drove an ambulance to Chernobyl with another Rotarian, Rowan Black, Stephen was secretary to Lisburn Business Enterprise Partnership for 10 years and has held most posts in the Rotary Club of Lisburn.
A new Club Award, the Peter Brogan award for a Rotarian with Vision, was presented to Patrick Coyle.
Trevor said throughout his time in the club Patrick has contributed in many different ways and in the last three years had been 'inspirational' in helping raise tens of thousands of pounds for charities including Polio Plus, War on Want NI, Revive at the Royal Children's Hospital, and recentdy two schools in Lisburn.
The award was presented by Peter's widow Eithne.
The Community Champion award went to Colin Suckling.
Trevor said Colin had made a huge contribution to the Golf Invitational Classic last September and had then been able to double the funds by applying for a Rotary grant, something which had not been done by the club for many years.
It means the club will be able to offer specific help to two local schools. Senior Rotarian of the Year was Alan Hall and Rookie of the Year Gary Corkin. The Event of the Year trophy went to George Christy for his work in the Tree of Life at Christmas.
| | | |
| --- | --- | --- |
| | | |
| Patrick Coyle receives the first Peter Brogan award from Trevor Stewart | Gary Corkin is presented with his award | Colin Suckling receives his award from Trevor Stewart |
| | |
| --- | --- |
| | Fay Ballard, the first ever Rotary Peace Fellow from Lisburn, is congratulated on her success by the outgoing President of the Rotary Club of Lisburn, who sponsored her application, Trevor Stewart and outgoing secretary David Brown. Fay, who works for the GOAL charity in Sudan, is now studying with other Rotary peace fellows in Thailand. During the programme they will visit Cambodia and the Burmese border. |
Ulster Star
15/07/2011