SECURITY TIGHT FOR RIR PARADE
Lisburn prepares to give Royal Irish Regiment the Freedom of the City
by STACEY HEANEY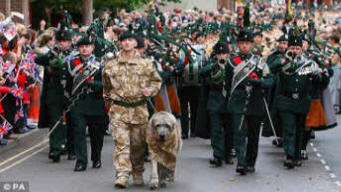 THOUSANDS of people are expected to line the streets of Lisburn on Saturday as the Council confers its highest honour, the Freedom of the City of Lisburn, on the Royal Irish Regiment.
Security is already being put in place for the ceremony at Lagan Valley Island following which the Regiment will parade through the City m the late afternoon.
The Freedom is in recognition of the 'invaluable and distinguished service rendered to our nation by The Royal Irish Regiment, particularly in recent years in Iraq and Afghanistan'.
Due to the scale of the event there will be disruption to traffic in Lisburn and Lagan Valley Island will be closed to traffic throughout the day.
Police say Queens Road, Linenhall Street, Market Street, Market Square, Cross Row, Castle Street and Seymour Street will be completely closed to vehicles and pedestrians for most of the day.
There will also be disruption to traffic on Laganbank Road, Belfast Road and Railway Street.
Temporary No Waiting restrictions will also be in force meaning that no on street car parking will be available on Saturday on any of the routes listed.
The Mayor, Councillor Paul Porter, said: "The Regiment has served all over the world with gallantry and bravery. Our ceremony this Saturday coincides with the Regiment's return following a recent six-month tour of Afghanistan.
"This will be a great honour, both for this Council and The Royal Irish Regiment.
"The City of Lisburn has a long and rich history with the Armed Forces. The Conferment of the Freedom of the City will see the Royal Irish Regiment take its much deserved place in our eminent role of Freemen, and will strengthen ties between the City and the Regiment."
Immediately following the Ceremony, there will be an inspection and presentation to the members of The Royal Irish Regiment at 3.30pm. The City's newest Freemen will then parade through the City Centre at approximately 3.45pm where the Mayor will take the Salute at Lisburn's War Memorial before the Parade returns to Lagan Valley Island.
"It is a great privilege for the City of Lisburn to recognise the bravery of The Royal Irish Regiment, both home and abroad, and pay tribute to those who have been injured or lost their lives in the line of duty. This is our City's way of showing our continuing support and appreciation for the courageous members of 'The Royal Irish Regiment,' said the Mayor. Councillor Ronnie Crawford added: "As the proposer of the motion to confer the Freedom of the City upon the Royal Irish, I do hope for huge crowds in Lisburn on Saturday afternoon.
"The Regiment deserve a heroes' welcome home from Afghanistan and the larger the crowds the greater the welcome. This should be made a day to remember in our city's history."
stacey.heaney@ulsterstar.co.uk
Ulster Star
20/05/2011