Ulster stars launch 2011 rugby summer camp in Lisburn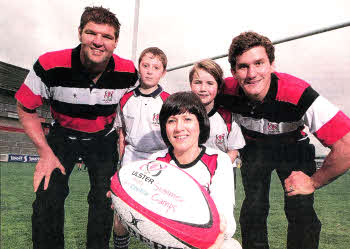 Ulster Rugby players Johann Muller and Robbie Diack join David Graham (12) and Eve Hughes (11) from Aquinas Grammar School, Belfast and Centra Brand Manager Nicky Kelly, front, to launch this year's Ulster Rugby Summer Camps, which are sponsored by Centra and its independent retailers. Picture: Brian Thompson/Press Eye
ULSTER Rugby players Johann Muller and Robbie Diack have launched the 2011 Ulster Rugby Summer Camps, with a camp taking place in Lisburn this August.
The players recently teamed up with independent retail group Centra to reveal the locations for this year's Ulster Rugby Summer Camps.
The Ulster Rugby Summer Camps, sponsored by Centra and its independent retailers, are for boys and girls aged 6-12 years and this year will run between July 4 and August 26. Each camp is five days long.
A local camp will take place at Lisburn RFC between August 1-5.
In addition there will be a senior camp based at the University of Ulster, Jordanstown during July for 13-17 year olds, aimed at boys and girls with previous rugby experience and focusing on the technical, tactical, physical, mental and lifestyle aspects of Rugby Union.
Ulster Rugby's Barry Willis, who heads up the organisation and delivery of the summer camps said: "It's great to have Johann and Robbie on board to help us launch our 2011 Summer Camp schedule. Both players took up the sport as youngsters and our summer camps are a fantastic way to bring rugby to young people all over the province."
"Ulster's success this season has really heightened the interest in rugby and the camps, run with support from Centra, are a fantastic way for both those who are new to the game and those with a little experience to develop their skills in a fun environment and meet new friends. Who knows, hopefully we may even see some of the future stars of Ulster and Irish rugby making their debut at this year's Summer Camps!
Centra Brand Manager, Nicky Kelly added: "Centra is pleased to announce its fourth season of support for the Ulster Rugby Summer Camps and to once again help promote the camps across Northern Ireland through the network of Centra stores. The camps provide a great opportunity for children to learn new skills, meet their rugby heroes and get a lot of exercise during the school holidays."
Centra has, for the first time, branded a lorry with images and information about the Ulster Rugby Summer Camps, to help market the camps to a wider audience as it travels the country making deliveries to Centra stores. This year, Ulster Rugby have reduced the cost of each Junior Camp by £15 so that registration for the week costs just £50 while the cost of the Senior Camp has also been reduced to £80.
There are discounts available for a second family member and the prices include a t-shirt, a boot bag, a rugby ball and a voucher to claim a free ticket to an Ulster game at Ravenhill.
Application forms are being distributed to schools and rugby clubs across Ulster and are also from local Centra stores.
Parents can book and pay for camps online. Full details of this year's Summer Camps and how to book can be found on https://www.ulsterrugby.com
Ulster Star
29/04/2011