Lisburn becomes first council to install rural internet access points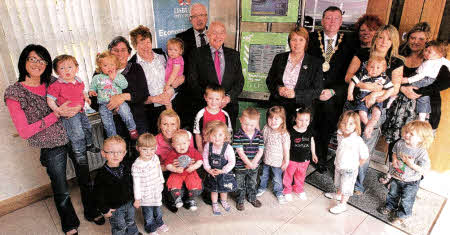 Members of Maghaberry Community Centre's Mother and Toddler group try out one of Lisburn City Council's Public Access Internet Kiosk Also pictured are Chair of the Local Action Group, Councillor Allan Ewart; Vice-Chair of Lisburn City Council's Economic Development Committee, Alderman Jim Dillon; Chairman of Lisburn City Council's Economic Development Committee, Councillor Jenny Palmer and Mayor, Alderman Paul Porter.
LISBURN has become the first council in Northern Ireland to provide public Internet access points to rural communities.
The project was part-funded under Axis 3 of the Northern Ireland Rural Development Programme to develop three Internet kiosks, provided by KDS Systems Ltd, which are now sited in locations in Moira and Maghaberry to provide wider access to Council information and services.
The official launch took place at Maghaberry Community Centre where one of the kiosks is located.
Chairman of the council's Economic Development Committee, Councillor Jenny Palmer, said: "I was surprised to learn that around 43% of people in Northern Ireland still have no internet access. The kiosks provided by Lisburn City Council will reach out to those people in rural locations who may have difficulty accessing the Internet." She said the council's website provided 'a wealth of information' including a guide to what's on and the role the Council plays in improving residents' quality of life.
Not only can users get Council-based information from the kiosks, they can carry out transactions online such as applying for a dog licence or registering for events such as the half marathon." she added.
Manager of Maghaberry Community Centre, Mrs Tracey Crothers said: "The kiosk in our community centre has been well received by everyone and provides essential information on Lisburn City Council and other useful local services such as the Job Centre online, the DVLNI, NI Direct (which gives access to a wide range of government services online), and the Housing Executive.
"The bonus is that this service is free and the fact that it is a touch-screen system means that users do not need to be computer or even Internet literate."
The other two kiosks are located in Supervalu, Moira and Spar, Airport Road, Moira.
Ulster Star
22/04/2011