Perfect start for Ryan in new NI Sevens season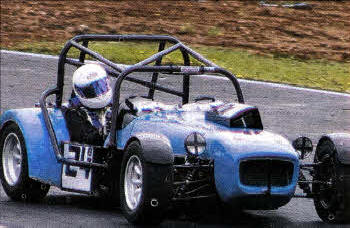 LISBURN'S Ryan Magennis has got off to the perfect start after two rounds of the 2011 Saville Machinery and Motorhomes N.I. Sevens Racing Challenge.
A storming win in the first race of the season at Kirkistown in March, was followed up by another win in the Sprint round at Nutts Corner in April.
This is only the second year of the Sevens Challenge, which is run over a series of races, sprints and hillclimbs for 'Seven' style cars, powered by 900cc motorbike engines. Ryan, who came second overall and was the Rookie Of The Year in 2010, is aiming to go one better in 2011.
He started the season off by qualifying on pole position for the first race at Kirkistown in his Honda powered GMS. A poor start, however, saw him drop right down the field, before an exciting comeback had him leading the race before it was red flagged for a serious accident. Ryan made no mistake on the restart and led the race to the finish.
The second event was a sprint at Nutts Corner, run by the North Ulster Car Club, and was against the clock, with each competitor being timed over a lap and a half of the Motorsports Centre track.
The first official timed run took place before lunch and saw Magennis set a blistering time of 108.65s — just outside the top 10 overall r in a very strong field of 66 race and rally cars. lain Leinster was next quickest, recording 109.92s on his first run — over a second back from Magennis, with Jimmy Dougan 3rd .
On run two, however, Magennis made his only mistake of the day —whilst pushing hard he out-braked himself at the end of the back straight and wound up doing a little 'grasstracking', before rejoining the circuit.
Magennis's cross-country escapade turned out to have damaged his front suspension, and although he was able to clamp it back together in time for the third and final run, he was unable to improve his time. This was to prove enough however, as none of his competitors could match the time he set during his first run. Ryan said It has been a very encouraging start to the season after a lot of effort by the team over the winter, however the first four rounds last year were won by the man who eventually placed 3rd in the championship. Big thanks to Fairprice Mobility and M&M Motorsport amongst others for their support this year"
The next event in the NI Sevens Challenge is a race double-header at Kirkistown tomorrow (Saturday).
Ulster Star
29/04/2011