Quick march to an Army career for Lisburn lad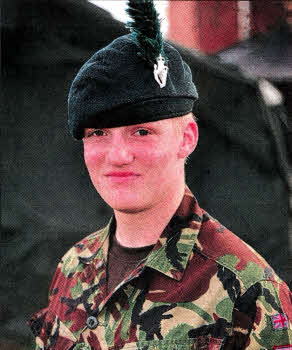 Sam Bird, aged 17 from Lisburn who has just completed a year of training at the Army Foundation College in Harrogate.
A 17-YEAR-OLD from Lisburn has just completed a year of training at the Army Foundation College (AFC) in Harrogate, North Yorkshire, and is now set to join the Royal Irish Regiment.
Sam Bird says he knew from a young age that he wanted to join the Army.
"I did well at school, but it wasn't for me," he explained. "I was in the Army Cadets for years and that gave me a taste for a career in the military. I couldn't wait to finish school and applied to join during fifth year."
Sam went along to his nearest recruitment office at Palace Barracks in Holywood in January 2009 for an initial chat with a recruiter.
"I was a bit edgy going along to meet the recruiter but it turned out to be really relaxed and he quickly put me at ease. He was able to answer all my questions and filled me in on all the different regiments and trades I could pursue. I already knew I wanted to join an infantry regiment but chatting to him did help to confirm that for me," he added.
The next step in his recruitment process was a basic Math's and English test, before facing a medical examination and a formal interview with an officer to ascertain his suitability for the Army.
"After that, I attended a Selection Board at Palace Barracks. This was made up of both physical and mental assessments; for instance, we had to run 1.5miles in 10 minutes and 30 seconds and take part in another formal interview with a panel. I was relieved to be told I'd passed," he said.
In September 2009, Sam enrolled on the year-long training course at the AFC, which trains young people to become Junior Soldiers in the Infantry, Royal Armoured Corps, Royal Artillery and Royal Logistics Corps.
Those training at AFC need to be aged between 16 years and 17 years and 5 months and Junior Soldiers start earning a salary straight away.
"I thoroughly enjoyed my time at Harrogate," he said. "It takes a wee while to settle in but you make friends so quickly and have so much to do that there's not much time to miss home.
"You spend quite a bit of time in the classroom, completing NVQs in subjects such as Communication Skills, Application of Number and IT. All things that will help me move up the ladder later on.
"The rest of the time is spent on physical training and military skills, for example, fieldcraft, skills at arms and battlefield casualty drills. You then get to put it all into practice during six or seven exercises during the year - that was the bit I liked best," he continued.
Now that he's completed his training, the next step is to join his Regiment in Shropshire.
"As soon as I turn 18 in May, I can join the rest of the Royal Irish lads. I can't wait. I think they'll be going out on tour again in about 18 months and that's what I'm most looking forward to. We do all this training and it comes to a point where you just want to get out there and put it all into practice.
"Looking further ahead, I hope to make a career out of the Army. There are plenty of opportunities for things like promotion and travel, and I'd like to look into joining the Royal Irish band," he added.
julieann-spence@ulsterstar.co.uk
Ulster Star
06/05/2011