Lisburn boxing legend Sam passes away
by STACEY HEANEY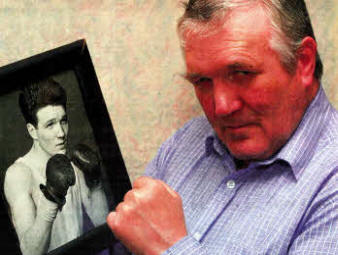 Sam Lockhart when he spoke to the Star in 2005
ONE of Lisburn's best known sporting sons passed away this week.
Boxing legend Sam Lockhart died suddenly on Monday May 16. The former Commonwealth Games medal winner passed away at his home in Hancock Street aged 64.
Sam, or Sammy to his friends, will forever be remembered for his heroics at the 1966 Commonwealth Games, when he brought a bronze medal home to Lisburn from Jamaica.
The legendary boxer achieved numerous titles and trophies throughout his boxing career, but his greatest achievement coming when he represented Northern Ireland at those 1966 Games in Kingston.
Speaking to the Star in 2005, as he donated his many trophies to Lisburn Amateur Boxing Club
in the hope it would act as encouragement to the young stars of the future, Sam said he remembered his experience at the Games as if it were yesterday. Recalling his semi-final he said:
"I remember thinking I had won the fight. I fought Anthony Andeh from Nigeria and everyone in my corner thought I had won, even the referee thought so. It came down to points and I lost 3-2 on the voting. In the end Andeh went on to win the gold medal and I took home the bronze."
Born in Hillhall in 1946, Sam began boxing at 11 when he and his brother joined a local gym.
And so a legend was born. Sam continued to box at amateur level for ten years winning four Ulster Juvenile titles in 1957, 1960, 1961 and 1963, the Juvenile Bantam title in Dublin in 1963, three Ulster Senior titles in 1965, 1966 and 1967 as well as taking part in the European Nations Cup in Poland in 1965 before going professional in 1967. During his career Sam also won a Lightweight title, two Featherweight titles, the All-Ireland Bantam title and the Ulster Professional Lightweight title before having to give up boxing in 1973.
Speaking after hearing of Sam's passing, fellow Lisburn boxer John Rodgers said: "I boxed along with Sam years ago. He was a nice lad and a great fighter, winning a bronze medal at the Commonwealth Games. It was a real shock to me when I heard the news, we had kept in touch through the years and he was a very nice man." Kenny Coates, the former Chairman of Lisburn Amateur Boxing Club said Sam was one of the "greatest boxers to come out of Lisburn," adding
that he was "top class" and would be sorely missed.
Paying tribute to Sam, former Mayor Ivan Davis said: "Having an association with Lisburn Amateur Boxing Club for many years, I would describe Sammy as one of the stars of the club. During Sammy's time titles rolled in, not only with Sammy, but with people like John Rodgers, Joe Hanratty, Wesley McBride and others.
"Sammy and John Rodgers both won Irish Senior and both went on to box at representative level. Indeed Sammy won a bronze medal at the Commonwealth Games in Jamaica. Sammy's is a sad loss and I would extend my deepest sympathy to the family circle."
Sam is survived by his children Julie, Petula, Samuel and Nigel.
stacey.heaney@ulsterstar.co.uk
Ulster Star
20/05/2011