Nigel recalls happy memories of boxing legend dad Sam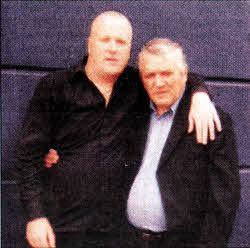 Sam with his son and `best friend' Nigel.
THE son of Lisburn boxing legend Sam Lockhart, who passed away last month, has said his father was his "best friend."
Nigel Lockhart has spoken of his memories of his dad, for whom he and his wife Tzena cared in recent years, saying he was a "proud" man, who always had a "genuine smile" and a real love for life.
Sam, a bronze medal winner at the Commonwealth Games in 1966, passed away at his home in Hancock Street in May. Speaking about his father, Nigel said: "It's a real shock; I'm devastated. Myself and Tzena and our daughter Hannah are really going to miss him so much."
Sam was laid to rest with his mother and father in Hillhall Presbyterian Church, a wish his family fulfilled.
Nigel stated: "His wish was to be buried from my house and to be buried with his mum and dad at Hillhall and his brother John helped with that, his family gave him that wish."
Nigel is understandably proud of his father's boxing achievements and he hopes to contact Lisburn Amateur Boxing Club, which had so much influence on Sam's career, in the hopes of starting a memorial cup competition in his father's honour.
"I've got his bronze medal, which he gave me a couple of years ago," Nigel explained. "He always said, 'Son, I've been all around the world and met lots of friends all over the world, but you're the best friend I've ever had.' That's one thing I'll always remember, and it was the same for me, he was my best friend.
"I've got all of his boxing pictures and the rest of his cups that he didn't give to the club so I want to get a cabinet and have a memorial to him. I don't want his name to be forgotten and I am thinking of going up to the boxing club as I'd like them to keep his name alive, maybe with a cup dedicated to him."
Nigel was keen to end rumours which have circulated since his father's death that Sam had passed away and was alone at home all weekend.
Nigel said: "It's very upsetting because myself and Tzena cared for my dad. People would always say we were inseparable. I took him to my house the Monday before he died for dinner and we would go out for dinner each Wednesday. On Fridays he used to go to Derriaghy Day Centre and over the weekend we would let dad do his own thing, but if he needed us he only had to call.
"He had been out on Saturday night and people said he was in good form. We found
out he had passed away when we went on Monday morning to change his bed and give him his washing.
"The Friday before he passed we collected him from the day centre and made him his dinner and he'd asked Tzena to get him some of the food we had, he wanted some bargains."
Nigel added: "He loved the day centre and had plenty of friends there."
He continued: "I never heard my dad say a bad word about anybody. He was a proud man and even with his illness he just got on with life and enjoyed life. He had a great personality and people just loved him. People used to say, 'Your daddy's smile is genuine', and it really was."
Sam is survived by four children, 13 grandchildren and two great grandchildren, and Nigel says he had a particularly special bond with Nigel's three year old daughter Hannah.
"Hannah was the love of his life, he really doted on her. He used to say she was his wee Miss World, and he really meant it.
"My sister Petula as well, she was the twinkle in my daddy's eye."
He continued: "One thing my dad always talked about was when he fought Jim Watt, who was a World Champion and Ken Buchanan. Both went on to win two or three world titles and that was something he was always very proud of."
Nigel concluded: "I'd like to say thank you to everyone who came to the house and attended the service at Sloan Street Presbyterian.
"I really miss my dad, he just meant the world to us."
stacey.heaney@ulsterstar-co.uk
Ulster Star
17/06/2011