Silver surfers taster day held at Laganview Enterprise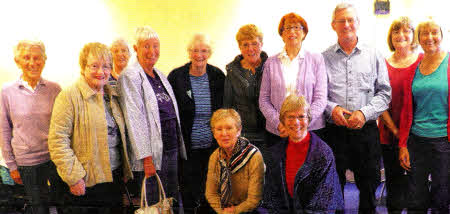 Members of U3A who took part in the Silver Surfers Taster Day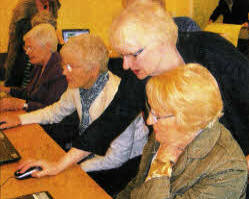 A SILVER Surfers' taster day was held at Laganview Enterprise Centre recently. Members of Belfast U3A who wanted to know more about computers came to Laganview Enterprise Centre to attend a taster session and try out a mouse and keyboard, to learn how to search for information, to send an email, phone for free, shop online, create a personalised home page, watch videos online and even to try a game to see if you Act your Age'.
The taster session was held to celebrate Spring Online with Silver Surfers' day, a national campaign which helps give older people and other less confident users a taste of the digital world. Research shows that 1 in 5 people aged 55-64 have never used the internet and this rises to 3 in 5 of those aged 65+.
Computers and the internet can be scary for many older people but at the session each 'novice' was assisted by a volunteer 'buddy'. In all approximately 20 novices were assisted by 15 buddies.
It is hoped that follow on sessions in September run by the Belfast U3A computer club will help novices to become more confident with digital technology.
---
Local woman falls victim to new computer scam
by MARY MAGEE
POLICE in Lisburn are warning the public about unsolicited phone calls after a woman told how she had been conned by someone claiming to be from 'Microsoft Windows'.
On Tuesday May 31 the woman got a call to her phone, which is ex-directory, from a man with a foreign accent. He claimed to be ringing on behalf of 'Microsoft Windows' and seemed to know the woman's name.
He asked the woman to get her laptop and switch it on as he believed that someone had attempted to hack into her computer.
He asked the woman to go into Windows and when she did a pop-up appeared on her screen with times and dates when a hacker was allegedly trying to get into her machine. He told her he would put a temporary block on the hacker and that he would report it. But before he went he noted that the warranty was up on her machine and said that if she paid an amount they would secure the system. A pop-up window again appeared asking for her details including credit card details, which she entered.
The call lasted 55 minutes in total.
After the woman put down the phone she attempted to trace the call but BT said that the telephone number was 'Unavailable'.
BT had told her they believe that this was a call from a foreign number.
Police say that there have been number of similar reports over recent weeks. They warned that criminals are always looking at new ways and methods to defraud innocent members of the public.
Their advice is that if you receive any unsolicited calls where you are asked to provide your name, date of birth and any bank/credit card details you should refuse to do so.
If the caller claims to represent a legitimate company, ask them to send their request in writing.
If you are shopping on the internet, make sure that before you provide any details of Debit or Credit cards that you are actually on a secure site. If you regularly shop "on-line', you should consider setting up a PAYPAL account.
Ulster Star
10/06/2011