SAFETY FEARS OVER M1 PLAN
Drumbeg residents fear potential disaster if slip roads get go ahead
by JULIE-ANN SPENCE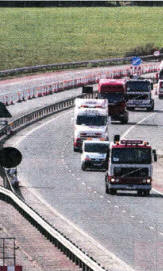 RESIDENTS in Drumbeg say they fear plans to construct slip roads on and off the M1 as part of proposals to build Northern Ireland's first motorway service stations in the area could end in tragedy because they are too close to homes in the, area.
The Roads Service published a notice last week revealing a scheme to construct 439 metres of new slip roads in the townlands of Tullynacross and Ballyskeagh - between the Lisburn and Blacks Road junctions of the motorway.
The slip roads would provide access to and from the service areas, the plans for which have been strongly opposed by local people.
Last year residents in the Drumbeg area of the city said they had become "somewhat resigned" to the fact that the service stations would be built, Residents express their concerns over slip roads
continued but insisted that the developers must do all they could to minimise the impact on local residents and on the surrounding environment.
Now residents say they have grave concerns about the safety aspect of the slip roads, which will run parallel to residential boundary lines.
Mr Ian Farris, one of the Drumbeg residents strongly opposed to the scheme, said he feared for the safety of road users and pedestrians in the area.
"We consider the required safety standards would prove to be not achievable," said Mr Farris. "Our main points of concern would be for the safety not only of ourselves but also of visitors and pedestrians who use our lane.
"At present along the full length of our lane, running parallel to the motorway, our only protection is a one metre post and wire fence. The MI is only a few metres away.
"Already since we have lived here at least one small car was involved in a motorway accident and had to take evasive action and had to drive through the fence and onto our lane. Luckily at that time no-one was using the lane and no-one was injured. If that can happen before these proposals for new slip roads then what confidence can we have that something worse will not happen in the future.
"We feel the potential for disaster is significant and should be considered a high priority."
julieann.spence@ulsterstar.co.uk
Ulster Star
17/06/2011