£3,000 raised in memory of Danielle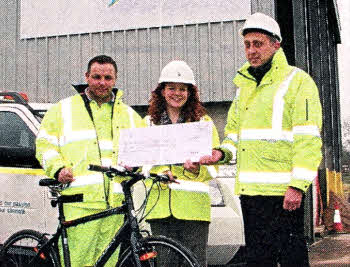 L-R: Stephen Houston from Amey, Naoimh Quinn from NI Children's Hospice and Liam Cunningham from Whitemountain Quarries.
STEPHEN Houston, whose daughter Danielle died in a road accident in 2009, has presented the Northern Ireland Children's Hospice with more than £3,000 raised in her memory.
Kinallen teenager Danielle, of Skeagh Road, lost her life when her Renault Clio left the road close to the Katesbridge Road/Enagh Road junction on July 1, 2009, just 11 days after she celebrated her 19th birthday.
In September last year, Danielle's dad Stephen, who works at the Lurgan depot of public services provider Amey, persuaded 14 of his colleagues to get on their bikes and help raise money for the Children's Hospice in memory of his daughter.
The grieving father said he wanted something positive to come out of the accident that claimed Danielle's life.
With time off from Amey to complete the charity event and a pledge the company would match whatever they raised, the team saddled up for a 10km sponsored cycle ride around Craigavon Lakes. They raised £1,522 as a result and with match funding from Amey the total doubled to £3,044. The company's contribution was made through the Amey Foundation, which enables all Amey employees to apply for matched funding on any money they raise for charity.
"Its great to see this initiative being used by someone in the team to help such a worthwhile cause," said Kenny Kerr, Amey's contract manager for Roads Service Northern Ireland,
Mr. Houston was delighted with the amount raised in memory of the daughter he said would always be "an angel". "I'm so happy to be handing over the cheque to Northern Ireland Children's Hospice," he said. "I wanted something positive to come out of the accident.
"Almost 80% of the team here have taken part in a scheme where Amey subsidises the cost of new bikes, so a cycling event seemed like the natural thing to do."
Of his daughter, he added, "Danielle was beautiful on the inside and out; you could not have wished for anyone better. To me, she will always be an angel. I hope this helps people remember her and provides extra support for the Northern Ireland Children's Hospice."
Ulster Star
11/03/2011