local family escape Libyan hell
by STACEY HEANEY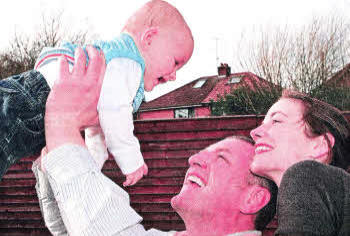 Stephen and Karen Willoughby with their seven month old son Darragh back home in Belfast after leaving Libya last week.
A LOCAL family have described how they were evacuated from Libya on one of the few flights leaving the stricken country.
Teachers Stephen and Karen Willoughby and their seven month old son Darragh, who are from the Stewartstown Road, were flown home on a BP plane in the early hours of last Thursday morning after a nightmare 24 hours at Tripoli Airport.
The couple, who were in their fourth year of teaching at the International School, described the tensions in the country and told how Tripoli became a "ghost town" after violence erupted as protests against Libyan leader Colonel Gaddafi mounted.
The family were forced to flee with just what they could fit into a suitcase, leaving their belongings behind as they desperately tried to make it out of the country. Karen, who is originally from Galway, described the situation as they struggled to get back home.
"We had been watching the situation in Egypt and had heard speculation about Libya," said Karen. "Thursday February 17 was the first day of protesting and the next day half of the student population had already left the country. Their parents rang us in advance to say they were leaving the country.
"By the weekend, there were quite a lot of gunshots at night and last Sunday the school told us to start making travel plans. On Monday we tried to book flights but the internet was down and every travel agent had closed down. Flights were completely full and there was complete violence at the airport. The gunshots were getting more frequent and by Tuesday the place was like a ghost town."
The couple wanted to make sure their son was not outside for too long and eventually arrived at Tripoli Airport at 6am last Wednesday morning, when they felt they would be able to get a flight.
"If it was just Stephen and myself we would have gone sooner, but we didn't want to risk bringing Darragh to the airport. Stephen went on Monday and we were told that an Irish evacuation flight would be leaving on Wednesday and we waited for that."
When Karen arrived at the airport she was shocked by what she found.
"All you could see was about an acre of space with people outside trying to get into the airport." she explained. "People had been lying out for days and days and inside there were thousands of people. There were Egyptians on their knees begging to get on flights.
"You can smoke in the airport and inside it was just a haze of smoke and once you are past security you can't come back but there were no toilets, we were there for 24 hours and people were just using the airport as a toilet. I had to beg the security to let me go back to use the toilet; it was rough."
Karen said the family home, some ten miles from the heart of the city, was in a "safe enough" area. However, as Stephen attempted to go to the airport to try to organise flights for his family, he saw army trucks and buildings on fire.
Karen added: "He was stopped by a guy in normal clothes with a machine gun and asked questions about where he was going, what he was doing.
"I find the situation very sad to think of my Libyan friends having to live through that. Our son's nanny is a Ghanaian lady and she was bombarded with stones.
"By 11pm last Wednesday night an Irish plane came, but it was a tiny plane that could only hold 20 passengers. We were only allowed one piece of hand luggage each and had to leave everything we owned behind, but it transpired that by the time people gathered their belongings the plane had gone. Because it was a military plane it is only allowed a short time on the ground.
"There was then supposed to be a British evacuation plane at 12.30am on Thursday morning and then we were told it was not coming. The British team were very good and we managed to get onto a BP plane which was bringing home the British workers, in the early hours of the morning."
The exhausted couple were delighted to eventually make it onto a plane. "We were wrecked," Karen said. "I couldn't keep myself up, we were absolutely shattered."
The couple are now staying between Stephen's family in Belfast and Karen's in Galway, however, they hope to be able to collect their belongings in Libya should the situation settle down.
"We are watching it on the news to see how it's going. We will be off work for at least a month and hopefully we can go back and get our stuff if we get the opportunity to do so."
Stephen described the airport as "absolutely horrendous." "The place was not an airport, it was a refugee camp" he said. "There was a riot on Wednesday night at the airport and all the glass was smashed in. Tear gas was sent in, the last we heard there were 200 EU citizens outside in the middle of it," he said.
"It is a very sad situation, they are a good bunch of people in Libya," Karen concluded.
stacey.heaney@ulsterstar.co.uk
Ulster Star
04/03/2011