Stepping Stones celebrates 13 years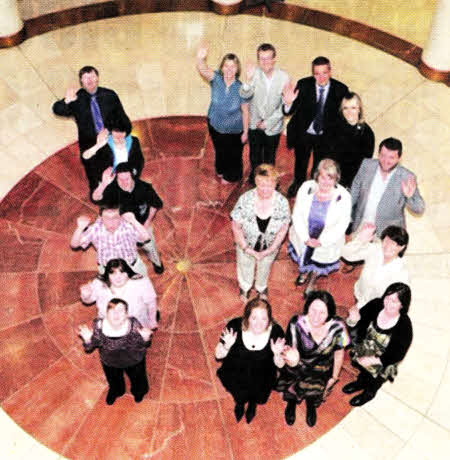 Trainees, staff and supporters of Stepping Stones celebrate its 13th Birthday at the Civic Centre.
LISBURN based social enterprise Stepping Stones, which provides adults with learning difficulties or disabilities the opportunity to access accredited training towards gaining employment, celebrated its 13th birthday this week at a gala event hosted by the city's Mayor Alderman Paul Porter.
Reuniting past and present beard members, staff, funders, supporters and trainees and clients, the event - held at the Lisburn Civic Centre - recognised the success of the charity's training, transitions and employment programmes, which since 1996 have helped over 400 people with learning difficulties or disabilities.
Chief Officer Paula Jennings said the event was a perfect showcase for celebrating the story of Stepping Stones. She said, "We've been on an incredible journey since launching 13 years ago, and the event was an ideal way to reflect on this journey, thank our supporters and reiterate our message to the local business and political community."
"In the last 13 years we've secured paid employment for over 50 clients, have launched four promising social economy businesses — Stepping Stones Coffee Shop and Picture Framing, The Avenue Coffee Shop and Business Venue and Pink Elephant Cards (specialising in wedding stationary) - and have worked with over 70 local employers to create ongoing opportunities." Paula continued, 'And whilst our growth is fantastic, like all in this sector, securing funding is becoming more and more difficult and encouraging ongoing support from the community, local businesses and the political community is essential. That's why events like these are so crucial and we're particularly grateful to the Mayor of Lisburn for his ongoing support and allowing us the use of such a fantastic venue."
Also speaking at the event was Rosie Scott from Lisburn, one of the first trainees to work with Stepping Stones. Having completed various training courses, Rosie secured employment in Lisburn's Four Seasons Nursing Home four years ago and described the employment as "a great way to make new friends" and very special to her.
To find out more about Stepping Stones and the work they do please visit www.stepping-stones.org.uk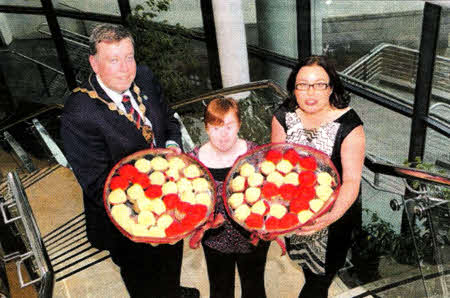 'Happy 13th Birfhday': Mayor of Lisburn, Alderman Paul Porter helps Stepping Stones trainee Rosie Scott and Chief Officer Paula Jennings celebrate the charity's 13th birthday at an event held in Lisburn's Civic Centre.
Ulster Star
27/05/2011