St Patrick's night celebrations take a new look in Stoneyford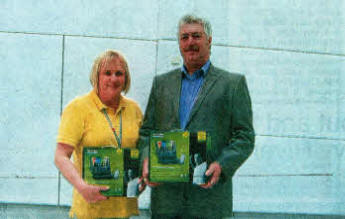 Paul Smith, Chairman of Pride of the Village Flute Band in Stoneyford, presents DVD players to a representative from the Royal Victoria Children's Hospital
THE commemoration of St Patrick took on a new look at Stoneyford in 2011.
The Pride of the Village Flute Band decided to expand on their annual St Patrick's parade with the idea of making the event more inclusive of the whole community.
After consultations with the Rector of St John's Parish church in the village, it was agreed that a church service to complement the parade would be very appropriate to help mark the memory of the man attributed with being central to introducing the Christian faith to the island.
With the support of the Rural Community Network a night of cross cultural entertainment along with refreshments was also planned in the Parish Hall to further enhance the evening.
After substantial preparation and several rehearsals, a schedule for the evening was arranged. The event kicked off with the band parading from the Orange Hall accompanied by Orangemen from local Lodges. The procession went to the War memorial and then onto the church where members of the local congregation and community were waiting. Over 100 were in attendance.
Praise was led by the combined choirs of St John's, Stoneyford and St Catherine's, Killead, and a flautist from 'Roses Lane Ends' flute band. The readings and prayers came from members of the congregation, community members of different denominations, Orange Order and Irish dancers with young and old involved in the liturgy.
After the service the band and lodge members paraded back through the village to disband at the Orange Hall before joining the rest of the congregation in the Church Hall. The offering of £250 was split between the 'Lawrenson-Toal' dance school towards an Orphanage in Moldova which they support each year through an aid trip and the 'Pride of the Village' flute band who donated three portable DVD players to the 'Royal Children's Hospital'.
St John's hall was packed as everyone enjoyed Irish stew followed by tea, coffee and buns before settling down to enjoy the evening's entertainment. This included a performance of Irish dancing from the 'Lawrenson—Toal' dance school who were accompanied by flautists from 'Pride of the Village' flute band and 'Roses Lane Ends' flute band, culminating in 'Duelling Banjos' style rendition between a Lambeg drummer and the Irish dancers in their heavy shoes.
Both dancers and musicians received a prolonged ovation from the audience such was the quality of the entertainment. The performance was intermitted with a 'History of St Patrick According to My Da' from local wit Rodney Clarke, which was an education for all.
The evening was a resounding success enjoyed by all who participated, so much so that plans are all ready underway for a more comprehensive St Patrick Day celebration in 2012.
Ulster Star
10/06/2011