Strictly everyone welcome to an afternoon of dancing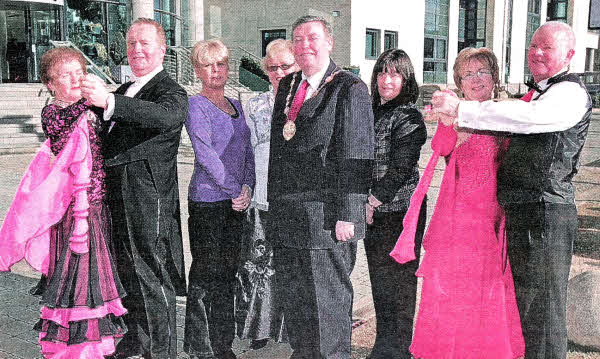 At the launch of the Irish Ballroom and Waltzing Federation's (lBWF) Competitive and Social Dancing event are the Mayor, Alderman Paul Porter, members of IBWF and representatives from the mayor's chosen charity 'The Carers Forum on Learning Disability'.
PREPARE to be swept off your feet as the Irish Ballroom and Waltzing Federation (IBWF) quicksteps into Lisburn on Sunday March 13 for an afternoon of competitive and social dancing in aid of the Mayor's charity, The Carers Forum on Learning Disability
It will be held in the Island Hall, Lagan Valley Island from 2.30pm to 5.30pm and is suitable for all ages, it will be an afternoon of enjoyable, foot-tapping music by the City's very own 'Housty'. The dance categories will range from ballroom, old time waltz and Latin and will be open to competitors and also social dancers.
Spectators of all ages are welcome to go along.
Speaking at the launch of the event, the Mayor, Alderman Paul Porter said: "This is the first time the event has taken place in our city and with the increased appeal of ballroom dancing I know that it will be well attended.
"Ballroom dancing is widely enjoyed by all ages and the health aspects associated with dancing means there are many benefits to taking part. There will be plenty of glitz and glamour as competitors strive to impress the judges."
"I want to personally thank the IBWF and Housty for taking the time to run this event to benefit charity. Their time and dedication is sincerely appreciated. The IBWF have a busy calendar of events hosting competitions all around Ireland and I hope that once Lisburn sees what they have to offer, many more people will join the group and support them," he added.
Perpetual trophies will be awarded in selected IBWF syllabus categories. Competitor tickets are priced at £10 and social dancers and spectators are priced at £5. Doors open at 1.30pm with competition registration taking place at 2.30pm.
Ulster Star
04/03/2011