Stuart to take on the world as one of NI's `Magnificent Seven'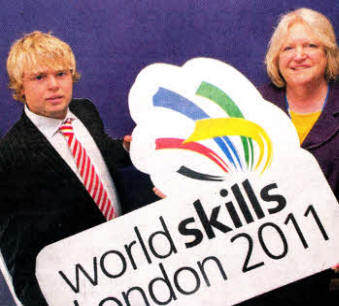 Refrigeration and air conditioning trainee Stuart Millar, who is part of Northern Ireland's `Magnificent Seven' with Nuala Kerr, Head of Skills and industry Division at the Department for Employment and Learning.
SEVEN highly-talented young people from Northern Ireland have Fought off stiff competition from across the UK to be selected as members of Team UK for WorldSkills London 2011 and South Eastern Regional College (SERC) apprentice Stuart Millar is one of the lucky seven.
Stuart, who studies at the Lisburn campus, has an impressive array of awards. A former SkillBuild winner, last year he won a gold medal at the UK SkiIIFRDIGE competition. Ken Webb, Principal and Chief Executive of SERC, said: "On behalf of all the staff and students at SERC I would like to wish Stuart all the best in the WorldSkills Finals.
"He is a very talented and dedicated young man, he has worked very hard over the past year to achieve a place on the team and thoroughly deserves this recognition.
Exciting
The next few months will be very exciting for Stuart as he prepares for the finals," he added.
Commending Stuart and his six team mates on their achievements, Employment and Learning Minister, Dr. Stephen Farry said: "Northern Ireland's strong representation on Team UK is testament to the high standards of technical and professional training in our colleges.
"This is a wonderful opportunity for these young people to demonstrate to the world that Northern Ireland has a workforce with the high levels of skills and training required to compete in the global economy and meet the economic challenges which lie ahead." The Minister continued: "To be selected for Team UK is an amazing achievement and I wish each team member the best of luck with their training, and look forward to watching them take on the best in the world in October.
"Northern Ireland has a proud history of medal winners at WorldSkills and I am hopeful that this will continue at WorldSkills London."
Stuart and the other six talented people will be part of an overall team of 43 members representing 37 skills.
Vocational
Northern Ireland, with its seven competitors in the skills of bricklaying, wall and floor tiling, refrigeration and air conditioning, landscape gardening, CNC milling, and mechatronics which is a two person team, has the highest number of team members of all the UK regions.
The entire team will now spend the next three months preparing for the largest international vocational skills competition in the world at London's ExCel Centre.
Young people from across the globe compete to become the best of the best in their chosen
skill.
150,000 visitors are expected to watch 1,000 competitors from 50 nations competing in 45 skill areas over four days of competition.
Ulster Star
12/08/2011