Council forms group to address suicides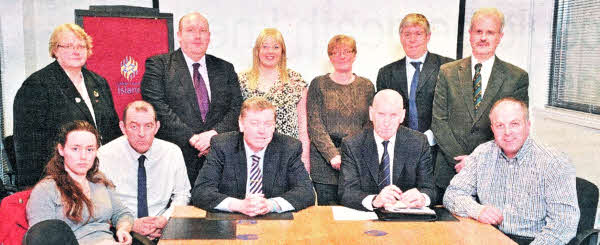 Pictured with the Mayor of Lisburn, Alderman Paul Porter at the initial meeting of the Lisburn City Council Suicide Prevention Group are elected representatives from political parties across the Council and Council Officers including Mr. Norman Davidson, Chief Executive of Lisburn City Council.
A SUICIDE Prevention Group has has initiated by the Mayor of Lisburn following the growing concern about the number of young people in Northern Ireland and in the City area taking their own lives.
Its initial meeting included representatives from political parties across Lisburn City Council as well as Council Officers.
Speaking about the meeting, the Mayor Alderman Paul Porter, said: "Over recent times there has been an increase in the number of suicides within the Lisburn area.
"It is devastating to hear when someone either young or old takes their own life and Lisburn City Council would like to play its part in trying to prevent such deaths.
"The meeting resulted in a very productive discussion and a number of potential areas for consideration were identified. "These areas will be brought to the relevant Council Committees for further discussion and any associated recommendations.
"The Council will work with all agencies in bringing about measures to reduce the number of suicide tragedies in the City area" added Mr. Porter
Derriaghy groups call for suicide task force
THE Derriaghy Village Community Association and the Derriaghy Community Development Agency are calling for a multi agency task force to look at the growing problem of suicide in the Derriaghy/Barnfield area.
A spokesperson for the groups said: "These areas are high with social deprivation and a strategic multiagency approach is needed to tackle the growing mental health issues and drugs and alcohol dependency within the area.
"This is an area where resources are virtually non-existent and the only alternative for some, including young people, is drugs, either prescription or illicit.
"There have been two deaths since Christmas within these areas, and the community send their deepest sympathies to the families concerned- The groups believe that the time for this strategic approach is now especially in the current gloomy economic climate. One death is too many, act now."
Ulster Star
25/02/2011