Sunflower Fest ready to bloom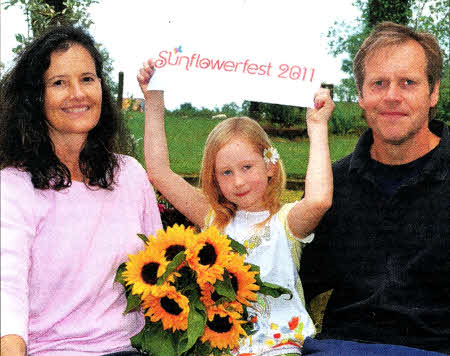 Sunflowerfest event directors Vanessa and Michael Magowan join seven year old Juliet Shaw down at Tubby's Farm for the launch of Sunflowerfest 2011.
BACK by popular demand, Sunflowerfest 2011, Northern Ireland's very own answer to Woodstock and Glastonbury, will take place next month from August 19-21 at Tubby's Farm in the beautiful rustic countryside just outside Hillsborough.
A fantastic weekend of live music, arts, crafts, comedy, poetry and food is on the agenda as festival planners finalise an extensive schedule of entertainment and interactive activities which will take place across 10 acres of this working farm.
Like Woodstock, Glastonbury and Electric Picnic, Sunflowerfest is a festival founded on the principles of love, positivity, tolerance and smiles where everyone is invited to relax and just be themselves.
Children and families are especially welcome at Sunflowerfest and the dedicated Kidz Zone has lots of fun activities to keep younger festivalgoers entertained throughout the weekend. These activities include rock & roll football, kid's music and art workshops, face painting, kid's yoga, storytelling and the Alice in Wonderland Maze. A Mad Tea Party will be performed 6 times on Saturday and again on Sunday down by the pond in the Enchanted Glade of Mystery and Surprise. Audience participation is invited.
Families also have access to a separate and especially reserved family camping area for peace of mind and quiet. Children under 12 go free at Sunflowerfest when accompanied by an adult.
Headlining at this year's festival will be local bands Duke Special, Cashier No. 9, Mojo Fury, Not Squares and singer Gareth Dunlop. With a mind-blowing 66 musical acts on the line-up there is something for everybody at Sunflowerfest. Over the weekend there is rock, country, traditional, punk, gospel, rockabilly, blues, world music, and reggae.
The line-up of live music for the festival is being overseen by local promoter Phil McCarroll of SO:NI (Sounds of N.I), who has been running successful showcase gigs in Belfast and Lisburn for many years.
This year's Sunflowerfest features a Reggae Corner hosted by Explosion Sound System where music fans can enjoy the very best of local roots reggae presented by the cream of Ireland's finest DJs and MCs.
For those who want to keep dancing all night the silent nightclub - Club Tub - is the place to be with the party continuing into the early morning, in silence.
As well as a packed itinerary of entertainment, festival goers will be able to peruse a wide selection of craft and clothing stalls as well as enjoying tasty treats from vendors selling snacks and hand held wholesome meals.
Complimentary therapists next to the Chill Out Area will also help Maintain the positive energy flow all weekend.
For the aspiring authors at Sunflowerfest there will be creative writing workshops to help tap into your inner Hemmingway or Wolfe.
Festival goers can also look out for interactive art installations and improvised performances as well as a special Comedy and Poetry Tent where a selection of local and national comedians and poets will be entertaining the crowds.
Sunflowerfest prides itself on its family friendly credentials - catering to people of all ages and tastes. Throughout the weekend there will be lots of activities and workshops for children and families. Interactive live art workshops and face painting, story telling, kite making and nature discovery trails will be blended in to the whole festival to ensure that children and families enjoy themselves to the maximum.
Michael Magowan, Sunflowerfest event director, commented at the launch: " We are really excited to launch the second annual Sunflowerfest and would like to thank everyone
who supported us last year. We feel that this is an excitingly different and experiential weekend festival focused on celebrating the best in local, national and world music and the arts. We hope the weekend will nurture the mind, body and soul through a wide range of artistic media - from music to storytelling and comedy and poetry. There will also be yoga, meditation, reiki, aroma therapy and other complimentary therapy disciplines on offer."
In the spirit of giving and love Sunflowerfest will once again be raising money to help with the rebuilding of Haiti after the devastating 2010 earthquake. £1 of everyweekend ticket sold will be donated to this worthy cause via Haven Charity which works on the ground in Haiti.
Last year Sunflowerfest donated £2,300 to Haiti this worthy cause. Further to this, the festival will also donate £I of every weekend ticket price to Barnardos (NI) to help with their early intervention programme targeting children's mental health. For further information on the full entertainment line up and to pre-book tickets online visit www.sunflowerfest.co.uk
Sunflowerfest event directors Vanessa and Michael Magowan join seven year old Juliet Shaw down at Tubby's Farm for the launch of Sunflowerfest 2011.
Ulster Star
22/07/2011