Investigation into death of swans in Hillsborough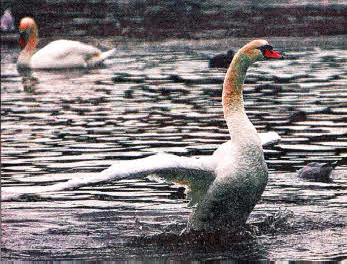 THE Department of Agriculture and Rural Development are investigating the death of a number of swans in Hillsborough Forest Park.
They are also investigating the deaths of swans in Killyleagh and Lurgan but have confirmed that none of the swans died as a result of Avian Influenza.
The swans are a permanent attraction in Hillsborough but visitors recently noticed a reduction in numbers and one lady was distressed after seeing staff pull the carcass of a dead swan out of the lake recently.
A spokesperson for the Department of Agriculture and Rural Development said: "Field Officers from DARD Veterinary Service based at the local office in Newtownards investigated an incident at a privately owned residential property in Killyleagh Co Down and sent samples from the dead swans carcasses to the AFBI Laboratories for post mortem examination. The post mortem has confirmed that none of the birds died from Avian Influenza.
"This is the third case that has been brought to our attention, the first case was investigated by DARD and the post mortem revealed lesions suggestive of bacterial infection.
"DARD Veterinary Service also investigated a second case in Lurgan, where test confirmed that the dead swan had died from a bacterial infection.
"We have no evidence to suggest that this is a rising trend at present and would ask the public to refer to the DARD website or helpline for information on the types of bird deaths that we would like to be brought to our attention so that DARD can monitor the situation and respond if necessary."
julieann.spence@ulsterstar.co-uk
Ulster Star
18/02/2011