'We're losing our jobs' claim TK Main staff
by MARY MAGEE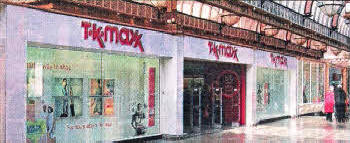 WORKERS in the TK Maxx store in Lisburn, which is to close in June, say they have not been offered jobs in the company's other stores.
Last week the company confirmed they were pulling out of Bow Street Mall. In a statement this week they said they were offering the 31 employees "our full support during this difficult process including individual discussions regarding opportunities for employment in nearby stores".
However some members of staff have contacted the Star to say they have been told that they will be made redundant that no-one has so far been offered a job elsewhere.
"I currently work with TK Maxx in Lisburn," one employee said. "I read your article and the paragraph that stated that all 31 employees would be offered jobs in other stores but we were told we were all being made redundant in June."
One shopper also wrote into the paper. She said that she too was shocked to hear that all the staff were losing their jobs.
"The staff in Lisburn are so lovely and I was so relieved to read they were being offered other jobs but when I was in shopping I learnt that this was untrue and that they are all being made redundant," she said.
"It makes me so mad that the staff are being treated this way. I think this matter needs to be addressed."
In a statement TK Maxx said that they will help all staff and 'offer them their full support during this difficult process'.
Last week the company said it had made the closure decision 'with regret'.
"We are always assessing and reviewing property strategies and the decision to close this store is in line with this thinking" they said.
mary.magee@ulsterstar.co.uk
Ulster Star
25/02/2011